Are you wondering which WordPress registration payment plugin is best for your website? Well, you've come to the right web place.
To expand your business online, you need to have a secure payment system on your website. You might even want the payment system integrated into a frontend registration form to charge users to access your services. And a WordPress registration and payment plugin is all you need to do that.
Therefore, we've prepared a list of the 7 best WordPress registration payment plugins for you. But before we get into the list, let's discuss some features to look for in a WordPress registration payment plugin.
Features to Look for in a WordPress Registration Payment Plugin
Before seeking out the best WordPress registration payment plugin, you need to know about merchant accounts briefly. That's because merchant accounts play an inevitable role in carrying out an online transaction.
A merchant account is just like a bank account that allows online businesses to make and receive payments. For example, it enables a company to accept credit cards or other types of electronic payment.
Meanwhile, these services come with additional costs like conversation rate, tax rate, and all. So, make a merchant account from legitimate payment gateways like Stripe or PayPal.
However, there are also other payment gateways that you can choose for your business. And after making a merchant account, you can search for a WordPress registration payment plugin that comes with the following features.
Spam Protected: Select a plugin that strongly encrypts your user's payment details so that you can avoid frauds and spammers.
Accepting Payments through Different Mediums: Not just typical bank, PayPal, or Stripe, people prefer different mediums for payment, so make sure your plugin has this feature.
Tracking System: The payment tracking system allows you to manage orders and track orders like canceled orders, shipments, refunds, etc.
Intuitive Checkout Page: This feature lets your customer fill in payment details and enables them to complete their order smoothly.
Now that you know what features to look for in your selected plugin, let's find out which is the best WordPress registration payment plugin for your site from the list below.
---
7 Best WordPress Registration Payment Plugins
User Registration is a complete solution that allows you to create user registration forms and accept payments through them. In fact, with its Stripe and PayPal add-on, you can accept payment from your customer in the most secure way possible. Plus, it allows you to accept payments through credit cards and different payment mediums as well.
On the other hand, with its robust customization feature, you can build a stunning-looking form for your website in no time. Not only that, it allows launching a user-friendly registration form with shipping and billing fields, making your payment process smooth and less time-consuming. All you need is its WooCommerce add-on.
That's why User Registration is the best WordPress registration payment plugin for your site without a doubt.
Key Features:
Add Survey,Polls, and Quiz Section
Spam Protected
Import and Export Forms
Smart Conditional Logic
Mailchimp, Zapier, ConvertKit Integrated
Price: Free or $69 for a Personal Plan
---
If you prefer to use payment gateways like Stripe and PayPal while creating any kind of form, then Everest Forms is the right plugin for you. It's a form builder plugin at its core that allows building forms such as donation forms, user registration forms, survey forms, etc. You can integrate a payment gateway and allow your customers to make payments easily and quickly through a registration form.
More than that, it comes with different layouts and templates options so that you can create a form that's ideal for your website. Besides, you can protect your customer payment details with its advanced encryption technology and reduce spam submission through Google reCaptcha, Honeypot, etc.
Key Features:
Email Notifications and Autoresponders
Allows to Create Multi-step Form
Comes with Repeater Fields
Shortcode Support
Smart Tags
Price: Free or $49 Per for a Personal Plan
---
WPForms is one of the best WordPress registration payment plugins allowing you to create any form and accept payments seamlessly. It's a drag-and-drop form builder plugin that integrates your website with Stipe and PayPal as well. Plus, it's a multilingual plugin, so that you can reach out to global customers.
With its different layouts and templates options, you can create an eye-pleasing form and place them anywhere on your website. Other than that, you can also use it for your eCommerce website to accept payment. Also, WPForms allows you to accept donations for a cause through your site.
Key Features:
Allows to Accept Pre-Payments
Comes with Advanced Customization Tools
Fully Responsive
Multi-Page Forms
Spam Protected
Price: Free or $39.50 Yearly for a Basic Plan
---
If you want to place a frontend user registration form on your website and accept payments through it, then Forminator is another best option for you. Although it's the official partner of Stripe, you can accept payments through PayPal as well.
Likewise, its conditional logic feature lets you display or hide fields based on a user's response and helps restrict age while registering the user. It also comes with a high customization feature and supports file upload from the website's front-end.
Key Features:
Third-party Integrations like Trello, Mailchimp
Spam Protected with Honeypot and Google ReCAPTCHA
Custom Logic Forms
Allows to Create Quiz Sections and Surveys Polls
Comes with Signature Forms
Price: Free or $60/Year
---
WordPress registration payment plugin Gravity Forms is the perfect tool to collect online payments securely. Plus, with its visual form editor feature, you can create intuitive user registration, login form, request call back forms, or any form in no time.
Besides that, Gravity Forms is one of the most popular drag-and-drop form builders that come with third-party plugin integration like Zapier, Dropbox, and HubSpot. All in all, it's the best premium WordPress registration and payment plugin that integrates your website with payment gateways like Stripe and PayPlay.
Key Features:
Workflow Automation
Conditional Logic
Secure Data Collection
Spam Protected
Allows to File Uploads
Price: $59/Year for a Basic Plan
---
Registration Forms come with extensive features that enable you to launch any form needed for your website while accepting payments through the form. In addition, it has a user-friendly checkout page using which your customers can provide their payment details easily.
Using this plugin, you can process membership payments; however, you need an additional plugin. Apart from that, it has a social icon add-on, WooCommerce add-on, bulk email add-on, etc.
Likewise, Registration Forms integrates your website with Stripe making your website trustworthy. All in all, it's the best WordPress plugin that makes it easy to accept payment online along with features to create attractive forms.
Key Features:
Multiple Payment Gateways
Customizable Login Security
Content Restriction
Data Import/Export
Frontend User Login and Forgot Password Forms
Price: Free or $19.99 for Advance Plan
---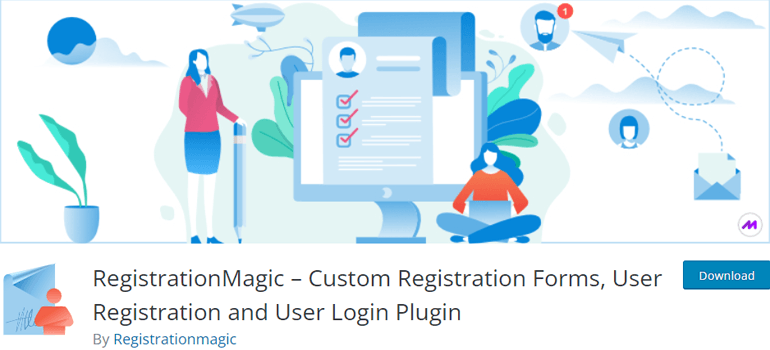 RegistrationMagic is a feature-rich drag-and-drop form builder that also allows you to accept payments through custom user registration forms. It has 2 form styles with 3 intuitive layout options and allows users to add multiple attachments to these forms.
Plus, you can get information about your users using its user registration and in-built submission graphs, charts, and tables. Its other features include three widgets, private user area, public directories, transaction details, MagicPopup overlays, etc.
Key Features:
Submission Counter on Form Card
Built-in Login System
Ability to Define Accepted Attachment Extensions
Show Form Expiry Countdown Above the Form
Allows to Download Individual Submissions as PDF
Price: Free or $89 for a Single Site License
---
Conclusion
So that's it for our article on the best WordPress registration payment plugins. All the plugins mentioned come with extensive features that help you set up a secure payment system and create user registration forms required for your website to grow.
But if you're still confused, then we do recommend using User Registration. After all, it's one of the best drag-and-drop registration form builders that enables your website to accept payment without any hassle.
Similarly, Everest Forms is also another great option as it comes with premium user registration and payment add-ons. From building striking forms to accepting payments, Everest Forms has it all.
If you're a beginner and want to build a WordPress website or add social login into your website, go through our blog, where we've covered WordPress-related topics.
Lastly, you can follow us on our Facebook and Twitter for the latest updates and articles.