Are you searching for the best WordPress job application form plugins?
Choosing the best WordPress job application plugins from numerous available options can be a daunting task.
But no need to worry! We've got your back. We'll help you choose the best WordPress online application plugins so that you don't have to spend much of your precious time and start creating an application form for your site instantly.
In this article, we'll discuss the best WordPress apply online plugins that we've handpicked with care and attention.
Why do You Need WordPress Job Application Form Plugins?
Along with time, online jobs have acquired enormous popularity. An online job application page or a job board has become one of the fundamentals of every company website. Having a job application page on your WordPress site benefits you with the following things:
You don't need to depend upon other recruiting sites and spend money on it.
You can list the job openings at your company, right on your site.
Monetizing your site by permitting other employers to post their job openings on your blog will be possible.
You can reach out to more deserving candidates for your business or company. Because you'll be able to direct the recruitment process as per your convenience.
Information collected from the candidates becomes more systematic. As a result, sorting out a suitable candidate becomes easier and quicker.
For all of these benefits, you can create the job board site on WordPress once you install and activate the best WordPress apply online plugin. WordPress job application form plugins allow easy management of online job applications without needing to know anything about coding.
You can go through our step by step tutorial if you don't know how to install WordPress plugins.
---
9 Best WordPress Job Application Form Plugin
Everest Forms by WPEverest is a must-have WordPress plugin for every website. It's all in one plugin that allows creating any kind of forms like contact form, quiz, survey including a job application form. The plugin also offers pre-built form templates to save time and energy.
Creating a job application form in WordPress is super-easy with its drag and drop interface. Whether you build an application form from scratch or the pre-built job application form template. You can utilize numerous form fields to build a completely customized job application form for your site in no time.
Moreover, the Image and File Upload field allows you to retrieve images; resumes, and other files from the users. With version 1.3.7 and later of Everest Forms Pro, you can even save uploaded files to cloud storage like Google Drive and Dropbox. Besides, configuring general settings and notification settings is extremely easy.
Features:
Instantly preview the look of your form
Conditional logic to show/hide form fields
Anti-spam honeypot and Google reCAPTCHA to get rid of spam
Permits configuring unlimited email notifications
Redirect submitted forms to your website to capture leads
Pricing: Free or $49/year for 1 site
---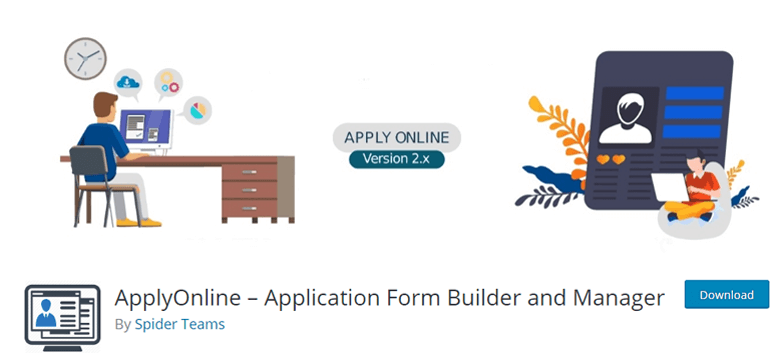 Apply online is the free job application form plugin for WordPress which is extremely user-friendly. You can add job application forms plus easily categorize, and manage it from the dashboard. Once the application managers receive application forms, they can note their comments to evaluate the candidates.
This drag and drop application plugin has several premium add-ons to enhance functionality. Popular add-on like Application Tracker permits applicants to signup, login, save the applications. They can further edit it several times and submit it. Application Rating facilitates the rating of each applicant to ease the selection process.
Features:
Email alert upon receiving application
Possess File Upload fields
Application Dropbox to save received applications
Hooks and functions for further customization
Stable performance and security
Pricing: Free
---
Simple Job Board is a free yet outstanding WordPress job application form plugin. You can add job listings and customize each job application form easily with this plugin. Moreover, you can utilize shortcodes to post your job openings on any page of your interest.
It features multiple attachment fields where applicants can upload their resumes, images, and other documents. These files can be uploaded in various extensions like jpg, png for images and pdfs, docx for documents. Besides, you can use the Anti-hotlinking option for the security purpose of your document.
Features:
Extendible job application plugin
Shortcodes to add Job Location and Job Types
Version 2.9.0 and higher compatible with WPML (WordPress Multilingual Plugin)
View applicants list who applied for the job
Premium add-ons available to extend the functionality
Pricing: Free
---
WP Job Manager is yet another free WordPress plugin for creating career pages. This shortcode based plugin is compatible with any theme. Additionally, its shortcode based feature enables you to display job listings in different formats. The free version of the plugin offers all the functions required for a simple job board site.
However, you can enhance function using premium add-ons. Popular add-on like Applications enables users to submit application forms and employers to manage all the functions related to applications. Job Alerts permits registered users to save job searches and create alerts about new jobs via emails.
Features:
Easy to set up and lightweight plugin
Searchable and filterable job listings
Preview job listings before going live on the site
Developer-friendly plugin
Displays RSS links to alert users about new jobs relating to their searches
Pricing: Free
---
WP Job Openings is a powerful free job application form plugin for WordPress. It allows adding application forms in WordPress in the most simple and easy way. The plugin features a flexible filter option so that you can filter listings by type of employment, category, job location, and so on.
You can post job openings using two layout options with this plugin i.e. grid and list. With the premium version, you can further enhance the features like rating and filtering application forms. You can attach uploaded files with email notifications. Besides, a shortcode generator lets you generate fully customized job listings.
Features:
Supports unlimited job specifications
WPML compatible
Job expiry option
Provide detailed documentation
Customize email notification
Pricing: Free
---
WPForms is a popular WordPress form maker plugin with powerful features. It has a pre-built job application form template to create a job application form instantly. The plugin allows you to customize the form with several form fields like Name, Email Address, Phone Number, File Uploads, and so on.
It enables easy configuration of general settings of the form. You can make use of smart tags to send a notification to users once you receive applications. Besides, you can configure form confirmation to display a message once the user submits the form. The plugin also lets you add an expiry date to your form.
Features:
Smart conditional logic
Save uploaded files to Google Drive and Dropbox
Google reCAPTCHA to prevent spam
Disable entry information and user details
Enable AJAX form submissions
Pricing: Free or $39.50/year for Basic license
---
Gravity Forms is a premium form builder WordPress plugin. This plugin allows you to create any kind of online forms including a job application form easily and quickly. You can choose from 30+ standard form fields to customize your form with this plugin. Also, you can enable conditional logic to show and hide the fields, pages, sections, etc.
Moreover, it has a unique feature that allows users to save the partially filled application form and complete it later. It lets you limit the number of entries to a form and even schedule the form to control the data capturing. Its responsive design allows forms to be displayed perfectly on mobile devices.
Features:
Email Notifications
File upload field to upload images, resumes, and other user document
Akismet and Google reCAPTCHA to fight clutter
Integrate form with Dropbox, Zapier, PayPal, etc.
Perform calculations on the basis of field values
Pricing: $59/year for 1 site
---
weForms is a user-friendly and super-fast WordPress online form plugin with a minimalistic design. It consists of 20+ custom fields from where you can easily drag and drop the required field to your form. Everything works on a single page so it's easy to customize your form quickly.
You can view, manage, and export form submissions. It allows you to export the existing form and import it to another website if you want to reuse it. Additionally, you can add a form expiration date to make the form invalid after a certain date. Moreover, you can limit the number of entries to form.
Features:
Live preview the form
Email notification for both user and admin
Redirect submitted form to your website to generate leads
Anti-spam and reCAPTCHA to prevent spams
Slack integration to get notifications via Slack Channel
Pricing: Free or $39/Year for 1 site
---
Formidable Forms is a flexible WordPress apply online plugin. It's the only form builder plugin with an advanced form styler to style your form. Further, it offers a powerful feature of Formidable Views. That is, it allows you to display submitted forms on the frontend of your website.
It enables you to view the entries directly from the dashboard. You can display, edit, and delete form entries from anywhere on the site. The plugin possesses automatic form filling features. That means you can pre-fill the form with known values like First Name, Last Name, Email Address, etc when a user is logged in.
Features:
Multiple file uploads
Digital signature forms
Save and continue partially filled application forms
Export and import forms, entries, etc to another site
Confirmation Fields to ensure Email Address, Passwords, etc.
Pricing: Free or $99.38/year for 1 site
---
Which One is the Best WordPress Online Application Plugins?
There are numerous free and premium job application plugins available nowadays. It's important to choose the best one to build a fully functional job board site.
We've mentioned a list of the best WordPress job application form plugins above. You can choose any one of them to create an interactive application form on your WordPress website without any doubt.
Still confused which WordPress apply online plugin to choose? We recommend using Everest Forms. Because it's an all in one form solution that eliminates the need to install different plugins for your site. With Everest Forms, you can easily create a perfect job application form as well as contact forms, quiz, survey forms, and so on.
You may also like to read our article on the best WordPress multilingual plugins if you want to translate your site into multiple languages. If you're looking for page builder plugins then you can go through our collection of best WordPress page builder plugins.
Do share this article if you liked it. And keep showering your love to us with your valuable comments and suggestions.
Disclaimer: Some of the links in the post may be affiliate links. So if you purchase anything using the link, we will earn affiliate commission.