To increase the audience engagement on any site, quizzes play a great role. And, it's easier than ever to integrate them with the help of WordPress Quiz Plugins. In this WPEverest article, we have reviewed and listed the best quiz plugins for your WordPress site for your convenience.
Why Use WordPress Quiz Plugins?
Normal text content can be repetitious and dull. So, website owners must be conscious, and work on creating interesting content for their viewers. With Quizzes, you can create interactive and exciting content so that the users invest their time on your site.
Moreover, you can use Quizzes as a marketing tool for your products. WordPress quiz plugins allow you to create and customize quizzes according to your requirements. You can ask questions related to your business and suggest products you like. As a result, you get the opportunity to improve conversions and get leads.
Therefore, there are various types of quizzes that can be created. You need to figure out the right type and ask the right questions. Below is the list of the best WordPress Quiz plugins that you can find in the market. Check them out and find the right quiz plugin for you.

---
Best WordPress Quiz Plugins
Everest Forms
Everest Forms is the first one on our list for the best WordPress quiz plugins. This easy form builder plugin allows you to create informative and interesting quizzes for your site. All you have to do is get the pro version and install the Survey Quiz and Poll Add-on. With the help of the add-on, you can create amazing survey polls and quizzes. One can simply use the drag and drop feature of the plugin to create easy quizzes. And, there are three quiz fields. These quiz fields are Checkboxes, Multiple Choices, and Dropdown fields.
Furthermore, there are various quiz options for you to customize your quiz. You can choose whether or not to show the correct answers and scores in the quiz. Also, there are settings for displaying feedback to users. You can send email feedback, Immediate Feedback, and Overall Feedback. In addition, you can show the quiz results to users directly.
Plugin Features:
Display Correct Answers
Show score points with Fields
Shuffle the Questions
Enable Quiz Reporting
reCaptcha Integration
Why Everest Forms?
Everest Forms is the best option for anyone who wants to create Quizzes and engage visitors on their WordPress site. It has a user-friendly interface and a clean design. Easy for anyone to understand and use. And, the features offered are more than enough to create a fun and informative Quiz. For analyzing the results, there is the admin reporting feature which shows the reports of the data collected from your Quizzes.
Watch this video for the Survey Quiz and Poll add-on by Everest Forms for more details.
---
Learndash
If you want to set up online courses on your site then, Learndash is the best option you have. It allows you to create online courses and add informative quizzes on your WordPress site with no trouble. You can incorporate Quizzes at the end of each lesson to test your users' capabilities. Also, there are options to require the user to pass the quiz to move to the next lesson. Not only this, you have plenty of options to display the results such as Question Review, Email Results, Category Scoring, Display Leaderboards, etc.
Plugin Features:
Integrate any media
Eight quiz question types
Option to randomize questions
Limit and track user time
---
Advisor Quiz
Advisor Quiz is one of the premium WordPress Quiz plugins that can be used for quiz marketing and engage users. It is compatible with any WordPress theme. And, it is fully responsive. Also, the plugin has social sharing features that allow your quizzes to reach out to users. In addition, it has the content filter quiz type that allows users to find the perfect match of content or products. So, you can attach content suggestions to results such as products, posts, and pages. Also, you can find various general quiz features such as progress bar, hide answer titles, enable email request form, etc.
Plugin Features:
Four Quiz Types: Content Filter, Trivia, Personality, Count.
3 Layouts: Presentation, Image Grid, Minimal
Highly customizable
Tracking Quiz activities
---
eForm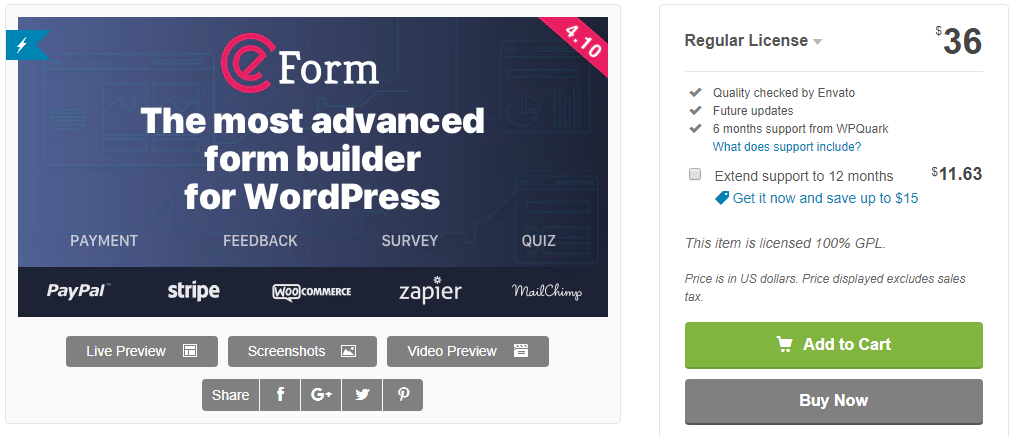 eForm is an awesome WordPress quiz plugin that can be used for quizzes, surveys, data collection, payment/cost estimation, and user feedback. The live form builder allows you to preview your quiz form while you are creating it. And, the plugin has a separate scoring system for quizzes. Adding score-able elements is quick and easy, and the system will automatically generate the total score for each user. So, you can assign scores and ranks to your users, based on their submissions.
Plugin Features:
Quiz timer with automatic submissions
Automated Notification E-mails
Create score-based quizzes
Assign different designations to users
---
WordPress Viral Quiz
WordPress Viral Quiz is one of the best WordPress quiz plugins that you can use to create awesome and viral quizzes. With this plugin, you can start with the simplest quiz-style to BuzzFeed type quizzes. You can either create a personality or, trivia quiz to engage users on your site. The plugin is fully responsive so, you don't have to worry about how your quizzes on different devices. Also, it is GDPR compliant. Not to forget, you can save your user's quiz answers and analyze them. You can even add custom CSS to customize according to your style.
Plugin features
Fully Responsive
Import/export quizzes
Customizable and multilingual
Create multi-pages quizzes
2 kinds of quizzes: Personality & Trivia Quiz
---
Modal Survey – WordPress Poll Survey & Quiz Plugin
Modal Survey WordPress Poll, Survey & Quiz Plugin is an amazing plugin that gives you the opportunity to create quizzes and view results. The plugin offers customization features that allow you to create unlimited WordPress quizzes with many settings and options. And, creating a quiz is quite easy, you have to specify the correct answers or the answer score. Then, the Quiz will be controlled by the given correct answers or the final score. In addition, there are several special features the extend the usability of the WordPress quiz for custom purposes.
Plugin Features:
DateTimePicker for scheduling your WordPress quiz,
Quiz timer options
Custom redirection for WordPress quiz
Create quizzes with Images and Progress Bar
---
Viral Quiz Maker – OnionBuzz for WordPress
OnionBuzz is another BuzzFeed type WordPress quiz plugin. It is best suitable for blog, travel and magazine themed websites. This plugin is the best to create eye-catching viral quizzes. Despite the fact that OnionBuzz is designed for entertainment, it is also a great tool for creating various knowledge tests. You can even display the correct answers after the user makes choices. Not only this, the plugin allows you to show the trivia quiz leaderboard.

Plugin Features:
3 quiz types
Mailchimp integration
Customizable and handy
100% Responsive design
View user details in Quiz statistics
---
Summing it up:
Hence, you can create any type of quizzes for your users. Just let your creative juices flow and create a Quiz using any of these WordPress quiz plugins. As website owners, it's up to you to maintain user engagement on your site.
Hopefully, you'll find a WordPress quiz plugin that suits the style of your website from the above list. Don't forget to share the article, and stay tuned for more articles like this.