Wondering which might be the best WordPress event registration plugins for your site? If yes, then you're on the right article.
A WordPress event plugin is required if you're launching an event for your business, and want to increase the exposure of the event. These plugins allow you to register attendees, display event calendars, add booking forms, and more.
You'll find many such event plugins in the market. We'll help you choose the best one with our list of the best WordPress event registration plugins that are powerful and affordable.
Let's begin!
Why Do You Need a WordPress Event Registration Plugin for Your Website?
A good WordPress event registration plugin can help you register attendees, sell event tickets, manage virtual meetings, and manage attendees effortlessly in a systematic way.
These plugins will display your event dates and other important information in the calendar on your WordPress events page. Additionally, you can effortlessly promote events online by providing attendees an opportunity to share them on social media.
So, there's no doubt that a good event plugin provides endless benefits for your events business. But choosing the right WordPress event registration plugins according to your needs might seem like a daunting task.
Don't worry, we've listed the 10 best WordPress event registration plugins for you.  
---
10 Best WordPress Event Registration Plugins
User Registration is one of the top WordPress registration form plugins on our list and is trusted by 70,000+ users. With its drag and drop form builder, you can create any type of registration form, including an event registration form. 
Plus, you can customize the registration form to your liking with its unlimited customization options. Moreover, this free, lightweight, and 100% responsive plugin comes with a beautifully designed login form ready for you to use.
The best part of this plugin is that it automatically creates a user profile account for your users. Even better is the fact that you're still in complete control of the customization of this page. So, you can edit the account page's appearance, add tabs, and more.
Key Features:
Display registration form with simple shortcodes 
Supports integration with Google Calendar
Compatible with major payment gateways
WooCommerce integration
Price: Free or $79/Year for a Personal Plan
---
Another popular WordPress event registration plugin to make it to our list is WP Event Manager. It helps you implement a full-featured event management system. Most importantly, your users can register for a event through a front-end form.
Moreover, you can set up virtual and in-person events using the most user-friendly and well-organized dashboard. You also get various features such as the ability to add event calendars and alerts, add Google Maps locations to events, etc. Additionally, you can preview the scheduled event and make quick required changes before publishing it.
Key Features:
Fully responsive
Create custom event fields, and personalize your events
Embed and categorize events in the widget
Visitors can find or select specific events based on types and categories
Allows to create multilingual websites
Price: Free
---
With Eventin, you can build innovative and engaging event registration forms that meet your requirements and preferences. Using its different event form templates, you can seamlessly create forms for in-person or virtual events. It's super easy to create single or multiple event registration forms, each with a different starting and ending date. 
Moreover, Eventin comes with recurring event features. So, you can select an event to repeat for a specific date and time. Plus, it's integrated with Zoom, which makes it easy to schedule, create and manage Zoom meetings.
Key Features:
Integrated with payment system 
Invoice printing options 
Provide reports of all attendees 
Unique ticketing feature 
7+ Elementor widgets 
Price: Free or $59/Year for a Single Site
---
Events Manager is a full-featured event registration plugin for WordPress based on the principle of flexibility and reliability. The free version of this plugin includes booking management, recurring event registration, multiple tickets, and Google Maps integration.
Besides that, it allows you to create different types of events for a single day, multi-day, recurring and more. Also, you can manage the registered audience list with the approval, rejection, or pending options.
Key Features:
Easy single-day event registrations with start/end times
Create custom event attributes
Booking options such as booking by email, coupon codes for booking, etc.
Utilize template tags and shortcodes in your posts and pages
Allows you to create events in different time zones
Price: Free or $75/Year for a Single Site
---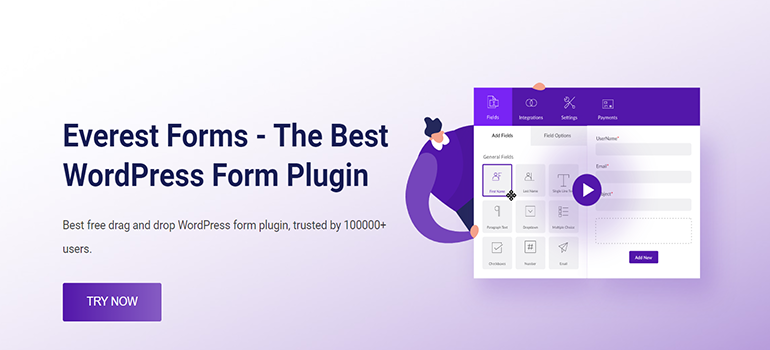 Everest Forms is one of the best WordPress form builder plugins available to you. It's a lightweight, fast, and extensible plugin that provides a beginner-friendly experience to users who don't have coding skills. 
If you're already using this plugin, you can install any of its premium addons like User Registration and Zapier to create event registration forms and event calendars. Everest Forms comes with many custom fields for your registration form that you can use with a simple drag and drop interface.
Moreover, all the submitted forms are listed in entries. So, you can easily view, edit, delete, and restore them from your WordPress dashboard. Plus, you can send and receive real-time email notifications for form submissions.
Key Features:
Compatible with major payment gateways
Supports integration with Google Sheets
Export entries as a CSV file
Google reCAPTCHA support 
Fully responsive design 
Price: Free or $69/Year for a Personal Plan (Get Up to 30% Discount) 
---
Registrations for the Event Calendar adds event registration features to the parent plugin, The Events Calendar. So, if you already have The Events Calendar installed on your site, you just need this plugin to start creating and managing event registrations.
It's the perfect way to handle registration if you're holding a meetup, class, workshop, tournament, or any kind of event. You can simply use its customizable form and email templates for a quick start. You'll be able to collect registration for any kind of event in a few minutes.  
Key Features:
Limit number of registrations
Add as many text fields as you'd like to the event registration form 
Customizable labels, error messages, and directions for your attendees 
Registrations are saved in the WordPress database 
Export your event registrations to a CSV spreadsheet 
Price: Free or $69/Year for a Single Site
---
If you want a feature-rich WordPress event registration plugin, RSVP and Event Management Plugin is for you. It comes with an import/export event attendee list, custom question feature, etc. Also, you can stay connected with your event attendees by creating reminders, and one-time automated emails. 
It has form customization features so you can change forms' color, fonts, text button, text box title, etc. It also allows you to send event notifications and reminders to your attendees.
Key Features:
Create multiple events 
WPML and Polylang integrated 
Enables attendees to add additional guests
Easy attendee management
AJAX-based front-end
Price: Free or $89/Year for a Single WordPress Install
---
Modern Events Calendar is a WordPress event calendar plugin that lets you manage your events in the fastest and easiest way possible. It enables you to sell tickets, earn revenue, and grow your business.
Most importantly, the plugin comes with advanced booking features. One of its many options include user registration for the organized events. However, it's only available in the premium version.
Besides that, you can enjoy a stylish design for the event calendars. And, if you want to add event scheduling to your website, this plugin has more than 50 beautiful layouts.
Key Features:
Ability to add recurring events
Responsive calendar and event views
Accept secure payment
Select pre-built template for categories and archives
Highly compatible with WooCommerce
Price: Free or $79/Year for a Single Site 
---
With the Eventer WordPress plugin, you can create event registrations forms for your website. The event registration can either be free or paid. Moreover, you can showcase event countdown, create recurring events, display upcoming events, etc.
Eventer offers different filter options for your event lists, such as filtering by tags, venues, category, and dates. It also has a built-in social sharing module allowing your users to share your event details on Facebook, Twitter, Instagram, etc. 
Best of all, it's integrated with PayPal and Stripe, so you can easily receive payment by selling your event tickets. 
Key Features:
Offline payment feature 
Front-end event submission 
Full-width calendar
Dynamic QR Code in tickets
Shortcodes generator available
Price: $39 for a Regular License 
---
Quick Event Manager is a WordPress plugin that allows you to manage your event registrations without any fuss. That's because it comes with an in-built event registration form. You can use this to easily collect registrations for various events you organize.
In addition, you can send the registration details to the event organizer directly. Apart from that, you can create new event posts right from the dashboard and list them on your site using shortcodes.
Key Features:
Styling and layout options
Add Google Maps to events
Ability to download events to calendar
Mailchimp integration for email marketing
Registration reporting by name, email, etc.
Price: Free or $2.99/Month for a Single Site (Billed Annually) 
---
Conclusion
To summarize, WordPress event registration plugins are the best tools to manage event registration forms for your site. These plugins also help you handle ticket-selling, events calendar, and more from the dashboard.
The plugins we've listed above provide amazing features for event registration. But if you're still confused on which plugin to choose, we recommend User Registration. Creating event registration forms, handling payments, and managing attendees is super simple with this incredible plugin.
But, that's not all. You can also use User Registration to create WooCommerce registration forms, conditional registration forms, etc.
Learn more about User Registration through our blog and official documentation.
You can also follow us on Twitter and Facebook to stay updated.
Disclaimer: Some of the links in the post may be affiliate links. So if you purchase anything using the link, we will earn affiliate commission.