Are you looking for the best WPForms alternatives? If so, you've come to the right place.
WPForms is undoubtedly one of the most popular form builder plugins available to WordPress users. Yet, there are numerous alternatives that provide similar or better features compared to WPForms.
So in this article, we've listed some amazing competitors of WPForms you should look into. But before that, let's discuss why you might need a WPForms replacement.
Why do You Need WPForms Alternatives?
WPForms is a top pick among many WordPress contact form builders available in the WordPress market. With over 5 million active subscribers, it has brilliant features allowing you to build innovative and engaging contact forms.
You can create multi-page forms, online surveys, or registration forms without writing a single line of code. You can also add and rearrange custom form fields from readymade templates instead of creating everything from scratch.
Although WPForms is plain, light, and efficient, it's slightly overpriced for the features and the number of licenses you get.
For instance, WPForms lacks the ability to upload multiple files in forms from a single button. You'll have to add multiple "Choose File" buttons to your form to upload the respective number of files.
And even though it has free version, its functionalities are very limited. Just to give you an example, you can't even view your form entries in WPForms Lite. You'll be compelled to buy the premium version anyway.
So, if you think these drawbacks may hamper your form-building process, it's better to explore WPForms alternatives. You might just find one that provides more features than WPForms at a relatively cheaper price.
With that said, let's discuss the 9 best alternatives to WPForms.
---
9 Best WPForms Alternative Plugins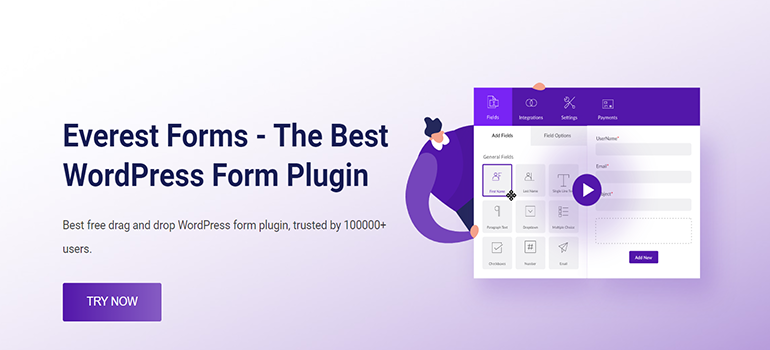 The first plugin on our list is Everest Forms, one of WordPress' top user-friendly and responsive contact form builder plugins.
Suitable for beginner to advanced users, you can smoothly utilize the plugin's functions to create powerful contact forms. Also, there is a beautifully crafted library of professional form templates. It'll save the time and effort you would spend creating forms from scratch.
Moreover, you can add various types of CAPTCHAs like hCaptcha, reCaptcha v2, etc. to your forms. This protects your site from spam form submissions. You can even whitelist email domains and filter the form submissions your receive.
Why is it the Best WPForms Alternative?
It offers a Style Customizer add-on to help you style your forms without any coding.
The free plugin gives you the ability to view and manage the form entries for each form.
Everest Forms fully supports multiple file uploads in forms at once.
You can develop single and multiple-column forms within a few clicks.
Everest Forms has better value for the price. For example, it offers 25 site licenses at $99 while WPForms offers 5 site licenses for $159.60.
Pricing
Everest Forms offers free as well as premium packages. The premium plans are listed below:
Personal – $48.30/year for 1 site license
Plus – $99/year for 5 sites license
Professional – $99/year for 25 sites license (Limited Time Offer)
Agency – $199/year for unlimited license
---
Like its name, Formidable Forms is a powerful freemium form builder that helps you build complex WordPress forms effortlessly.
You can craft survey forms, quizzes, calculator forms, user registration forms, etc., with the plugin's drag and drop feature. Or, if you're a beginner, you can make use of its many pre-built templates, also saving your time.
It's compliant with the overall cookie privacy policy, even letting you add a GDPR checkbox field to collect consent. And you may import the form submissions to an integrated marketing platform or export them to a CSV.
Why is it the Best WPForms Alternative?
You can create complex registration forms with the help of repeater fields.
You get beautiful reports to analyze and showcase the data from your survey forms.
It comes with customizable users entry notifications.
Users are able to upload multiple files in forms simultaneously.
It offers CSV import/export feature for your form submissions.
Pricing
Since the plugin is freemium, it offers free as well as paid features. The paid plans are:
Basic – $39.50/year for 1 site
Plus – $99.50/year for 3 sites
Business – $199.50/year for 7 sites
Elite – $299.50/year for unlimited sites
---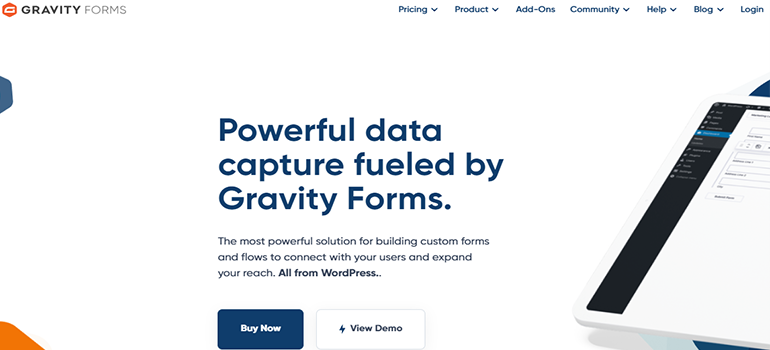 Listing another WPForms alternative, Gravity Forms is a premium drag and drop form builder WordPress plugin with advanced functions. It goes beyond any average contact form builder, letting you formulate complex forms with no sweat.
By further installing add-ons, the plugin aids you in creating surveys, user registration, web directory, etc. The forms can be made single or multi-column. You may also break long forms into several pages and turn them into multi-step forms.
Why is it the Best WPForms Alternative?
Gravity Forms enables you to manage subscriptions and recurring payments.
It offers premium support options like FAQs, a knowledge base, forums, and email support.
It lets users auto-fill their form data with Dynamic Fields.
It offers honeypot protection as well as Akismet integration.
It comes with advanced certified add-ons like Gravity PDF, Conditional Pricing Perk, etc.
Pricing
Gravity Forms is a premium WordPress plugin with the following plans:
Basic – $59/year for 1 site
Pro – $159/year for 3 sites
Elite – $259/year for unlimited sites
---
Next up on our list of WPForms alternatives is Contact Form 7. It's one of the most widely used contact form plugin of WordPress. Besides being free and simple, it lets you easily customize your forms and emails with the use of form and email tags.
Usually, the forms you create with a form builder plugin are compliant with data privacy laws. Here, the plugin itself follows data privacy regulations. Neither does it exploit personal data nor does it track users. And it blocks third-party cookies too.
Why is it the Best WPForms Alternative?
It's completely free with no paid upgrades required.
You can customize forms and emails with simple markup.
You receive an email with all the file attachments uploaded in a form.
It supports AJAX-powered form submission.
From documentation to direct mail, support is always available.
Pricing
It's completely free of cost.
---
Ninja Forms is also a freemium tool with a smooth drag and drop interface. The number of forms you're allowed to create is unlimited, with unlimited form submissions too. Even a novice user can design any kind of contact form imaginable.
The plugin allows the creation of multi-page and multi-column forms. On top of that, the form fields are quite flexible as well. Furthermore, you can burrow any pre-built templates from its library to build registration forms, MailChimp forms, email subscription forms, etc.
Why is it the Best WPForms Alternative?
The user interface is plain and simple to configure.
It saves the form progress while a user is filling up the form.
It generates shareable public form links.
It offers a 'Right to be Forgotten' button for GDPR-compliant forms.
It provides extra form templates and 27+ form fields.
Pricing
You can use the free version of the plugin or upgrade to the first-rate plans listed below:
Basic -$49/year for 1 site
Plus – $99/year for 3 sites
Pro – $199/year for 20 sites
Elite – $299/year for unlimited sites
---
Fluent Forms is a classic drag-and-drop contact form builder plugin in WordPress that offers both free and premium versions. It helps you create subscription forms, calculator forms, or any type of WordPress form for your website in minutes. No coding needed at all!
Once you start building the forms, you can choose from 30+ custom form fields. However, if you're new to WordPress form building, you can simply use the pre-built form templates. Even better, you can reuse the same templates for making similar forms.
Why is it the Best WPForms Alternative?
It supports AJAX form submissions.
The plugin lets you show or hide specific fields with conditional logic.
You get advanced data filtering based on status and date range.
You can easily break lengthy forms into multi-step forms.
It lets you import/export forms without extensions.
Pricing
Since Fluent Forms is a freemium plugin, you can either use it for free or upgrade to a premium plan. The pricing plan consists of the following packages:
Single Site License – $59/year for 1 domain license
Agency License – $129/year for 5 domains license
Unlimited License – $199/year for unlimited domains license
---
Forminator is another amazing contact form builder plugin available for free in WordPress. Not only contact forms, you can also develop registration forms, quizzes, or interactive polls conveniently with Forminator at hand.
Additionally, the plugin allows users to upload a single file or multiple files at once in your form. On top of that, you can configure the file upload field to accept only specific file types such as pdf, jpeg, etc. You can also limit the file size and the number of files uploaded at once.
Why is it the Best WPForms Alternative?
Unlike WPForms, it offers a 7-day free trial for its premium plan.
You can reuse pre-existing form templates to build similar forms.
Users can drag and drop their files into the file upload field.
You can import all your data from Contact Form 7 and even its add-ons.
It allows front-end post submissions without giving users the access to your dashboard.
Pricing
Along with the free version, Forminator also offers a premium version. You'll have to pay $7.50/month for Forminator Pro. You can start with a 7-day free trial and buy the plugin if you're satisfied with it.
---
The next freemium competitor for WPForms is ARForms. It's an impressive form builder plugin that lets you create all kinds of WordPress forms within a few clicks. It offers 50+ form templates and over 30 elements to help you build and fully customize a form any way you want.
Better yet, the plugin allows you to create multi-steps forms with a timer. This means the form will auto-submit itself after a certain period of time. Besides that, you can create multi-column forms, with up to 6 columns in a single row. You can also resize the columns as per your requirements.
Why is it the Best WPForms Alternative?
Your users can crop and rotate their images before uploading them to the form.
Compared to WPForms, ARForms is super cheap for the advanced features you get.
It lets you delete the user's stored data upon request.
It auto-saves form progress when users leave a partially completed form.
You can include consent requesting checkboxes into all your forms.
Pricing
You can use ARForms for free or buy its premium version from the CodeCanyon marketplace. It costs $39 for a lifetime license with 6 months of free support. For extra add-ons, you must $34 separately.
---
Form Maker is a leading freemium contact form builder with a mobile-friendly and fully responsive design. Its free version offers 7 form fields, while the premium version gives you more than 41 field types. Thus, you'll be able to create any type of form you need such as contact forms, reservation forms, feedback forms, etc.
Moreover, Form Maker lets you display the form as a Popup, Scrollbox, or Top Bar. Aside from that, it comes with 15 customizable WordPress themes. So, you can use any of these beautiful themes and match the style of your forms to the site's design.
Why is it the Best WPForms Alternative?
You can view and manage each submission you receive from the forms.
It offers customizable settings for every form type.
You can create forms with automatically calculated fields.
It sends you a SMS notification whenever a user submits a form.
With conditional mailing, you can send emails to specific user groups based on the form submissions.
Pricing
Form Maker offers very limited features in its free model. So, you can upgrade yourself to the pricing plans listed below:
Basic – $30 for 1 website
Pro – $60 for 5 websites
Plugin Bundle – $100 for 30 websites (Includes other premium 10Web plugins)
---
Conclusion
You have multiple alternatives when it comes to the WPForms form builder. So, if WPForms is not working out for you, you can try out the plugins we've explored in this list. And most of them are free too! So, you can use them before making the final decision.
If you're still confused, we recommend Everest Forms. Not only are its premium plans super affordable, you get to view entries and allow multiple file uploads easily.
Or, you can try the ARForms plugin that offers unique features like editable images, timers on forms, etc.
That's it for this article! If you're interested in exploring more about WordPress plugins for lead generation, user registration, FAQ, etc., you should explore our content-rich blog.
You can also follow us on Facebook and Twitter for new updates on posts and products.
Disclaimer: Some of the links in the post may be affiliate links. So if you purchase anything using the link, we will earn affiliate commission.