Are you searching for the best WordPress speed optimization plugin to speed up your site? Look no further because we have handpicked the best WordPress performance plugins that increase your site's speed.
These WordPress performance plugins allow you to increase your site speed without any hassle. They offer the necessary features that help page speed optimization and efficiently increase the overall site's speed.
This article reviews and lists the best WordPress speed optimization plugin based on various features for your convenience. But before we dive into that, let's know the need for WordPress speed optimization plugins first.
Why Do You Need WordPress Speed Optimization Plugins?
Improving your site's speed is one of the crucial factors for ranking on the first page of the search engines. Not only does it improve the user experience, but it also makes your site more SEO-friendly.
You can find many WordPress plugins to increase site speed out there. And caching plugins are one of them. Caching makes it easier to retrieve data and load your site faster.
Other than this, you can also speed up your WordPress site using an image optimization plugin, lazy loading, and more. Numerous WordPress performance plugins provide these features for easy optimization of your site for speed and performance.
We have included all the WordPress speed optimization plugins that you will ever need here in our list. So, keep reading, and don't miss out on any of these plugins.
---
14 Best WordPress Speed Optimization Plugins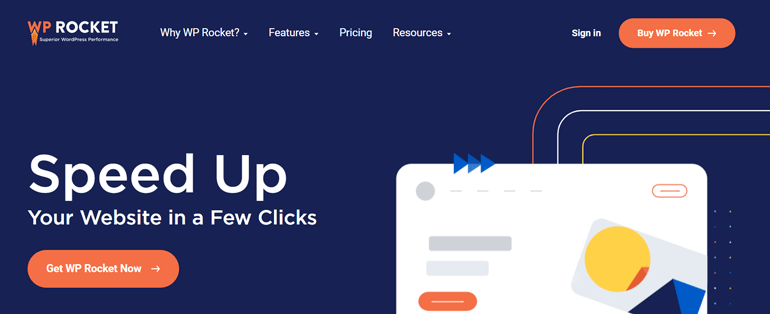 WP Rocket is the best WordPress caching plugin that you can use to improve your site's performance. It has a user-friendly interface that allows even beginners to quickly install the plugin and use it to increase the website's speed. With the help of its built-in page caching, you get an ultra-fast load time. Besides, it also minifies your HTML, CSS, and JavaScript files. 
Furthermore, you don't have to worry about its compatibility as it's compatible with major plugins, hosting companies, themes, and page builders. Not to forget, it also offers advanced features such as database optimization, direct Cloudflare integration, etc. Also, the plugin compresses the web pages on the server and then decompresses them back in the browser to speed up the performance.
Key Features
Lazy loading for faster loading of images and videos
Integrates Content Delivery Network (CDN) service for better caching
Integrates with Google Analytics to load code from the server
Supports eCommerce optimization
Price: $34.30/ Year
---
If you're a beginner or want a simple solution for caching, WP Super Cache is the plugin for you. It's a popular WordPress speed optimization plugin that is available for free. The plugin has over 2 million active installations, and many web hosting companies recommend it.
It generates static HTML files from your WordPress site, which is lightweight and loads faster. And these files are served to the majority of your users. In this context, users are those who are not logged in or haven't left comments on your site.
Key Features
Preload your posts by enabling the "Preload Mode" option
Option for not caching pages for the known users on your site
Advanced features such as Gzip compression and browser caching
Connect with a CDN to load your content faster
Price: Free
---
Perfmatters is different from the other WordPress speed optimization plugins in this list. The plugin removes unnecessary options that are enabled by default in WordPress as they can slow down your site's performance. So, you can easily disable using buttons with the help of this plugin.
Furthermore, the plugin allows you to reduce HTTP requests on your site. They are another factor responsible for slowing down your site. At the same time, it also has a built-in scripts manager tool that allows you to disable scripts on a per post or page basis. Moreover, you also get the option of changing the login URL for your website to decrease bot scraping.
Key Features
Lightweight and compatible with other caching plugins
Optimize your database by cleaning up and deleting unwanted data
Option to change autosave interval to keep fewer auto-drafts
Allows you to host Google Analytics locally
Price: $24.95/ Year
---
WP Fastest Cache is one of the best speed optimization plugins for WordPress, which focuses on caching. You'll also find a bunch of other features that make this plugin so much better. Besides, it has a simple user interface. As an admin, you've got the power to delete all the cached files, block cache for specific posts or pages, enable or disable cache option for logged-in users, and so on.
In the beginning, you can try the free version and ultimately move to the premium version if you want more advanced features. The free version offers the essential minification for HTML and CSS. However, it would be best if you've got a premium plan for JavaScript minification.
Key Features
Offers image optimization and database optimization features
Allows setting cache expiration times for URL strings
Option to exclude certain user/content from caching
Option for disabling emoji
Price: Free or $49.99 for a one-time package
---
Lazy Load is an image optimization WordPress plugin built by WP Rocket. This plugin displays images and iframes on a page only when users scroll there. If you're already using the WP Rocket plugin, you don't need to install this plugin; the Lazy Load plugin is built into WP Rocket.
With the plugin, you can lazy load all the thumbnails, images in widgets, text, and avatars. Further, you also get the option of replacing Youtube iframes with a preview thumbnail to speed up the loading time of your website.
Key Features
Lightweight because there is no use of jQuery
Option to disable lazy load on pages and images
Script weights less than 10KB
Automatically lazy load the background images
Price: Free or $34.30/ Year
---
Next on the list for the best WordPress plugins to increase site speed is W3 Total Cache. It offers many features that help you improve your site's performance. And, it is completely free so, you can easily install it on your WordPress site.
It offers features like page caching, browser caching, database caching, and more. However, the plugin is more reliable if you've got a mobile and e-commerce site. Additionally, it improves core web vitals, SEO (Search Engine Optimization), and overall website user experience.
Key Features
Compatible with shared hosting, virtual private/dedicated servers
Transparent CDN integration to reduce load time for your site
Accelerated Mobile Pages (AMP) and Secure Socket Layer (SSL) support
Supports reverse proxy and maximize server scaling
Price: Free
---
WP-Optimize is an all-in-one WordPress speed optimization plugin that offers multiple features. It focuses on caching your website and optimizing the WordPress database. So, you can quickly clear out the unnecessary data cluttering your database. Furthermore, you can compress your images and even get the premium version to add extra functionalities like optimization preview, preload key request, lazy loading, and so on.
Meanwhile, the plugin also enables the minification of CSS, JavaScript, and asynchronies them. This built-in minification feature adds a layer of optimization to reduce the server's size and the number of requests. And, its advanced-cache exclusion rules let you cache almost anything.
Key Features
Automatic clean-ups for database
Device-specific caching
Cache preloading, browser cache, and device-specific cache are available
EXIF data-keeping to retain image information is after the image is compressed
Price: Free or $49/Year
---
The images on your site have a significant impact on your page speed. And, they can be the reason for your slow page load times and eventually increase the ranking on search engines. So, you can use ShortPixel to optimize images on your WordPress site easily. It's one of the important WordPress speed optimization plugins out there. 
It allows you to resize and re-scale your images on your site easily. Also, you can automate the optimization of your images as you upload them. With this image optimization plugin, you can optimize many image types such as JPG, PNG, GIF, and PDF documents too.
Key Features
Easy to backup and restore your images with one click
Offers compression options: lossy, glossy, and lossless
Compatible with WP Retina 2x, so the retina images are automatically compressed
Compatible with any gallery, e-Commerce, and slider plugin
Price: Free
---
---
Next, we have Asset CleanUp on the list as the plugin helps load your page faster to create more conversions and revenue. With active installations of over 100,000, this WordPress performance plugin is similar to PerfMatter. It allows you to disable scripts and decrease the number of HTTP requests loaded.
When you have installed many WordPress themes and plugins on your site, there are possible conflicts. Thus, the plugin easily removes these conflicts and makes your site faster. Moreover, it works perfectly in combination with a cache plugin.
Key Features
Eliminates render-blocking resources
Remove Emojis, Dashicons for guest users on your site
Reduces the HTML code of the actual page
Easy to scan the source code
Price: Free
---
Autoptimize is another page speed optimization plugin for WordPress websites. It minifies scripts and styles, aggregates them, and defers the aggregated full CSS. Likewise, it moves the styles to the header and scripts to the footer.
Besides, it also has the option to lazy load the images, optimize Google fonts, remove WordPress core emoji, and so on. Meanwhile, if you consider doing page caching, Autoptimize works seamlessly with WP Super Cache and Speed Booster pack.
Key Features
Supports WebP and AVIF formats
Async non-aggregated JavaScript
Extensive API available
Excludes everything inside the "noptimize" tags
Price: Free
---
Hummingbird is a popular WordPress speed optimization plugin that makes your website faster by adding ways to boost the Google PageSpeed Insights. It scans your site, finds out the factors for slowing it down, and fixes them. At the same time, it lazy loads the comments and breaks up the smaller posts to avoid network payloads.
The plugin also has a Hummingbird Cache suite that offers effective browser caching for any site. It also enables text compression and establishes earlier connections. Similarly, you can set your preferred setting for performance and save them to use on any other site.
Key Features
Transfers data at high speed with GZIP
Preloads key requests
Fixes JavaScript execution time
Eliminates render-blocking resources
Price: Free
---
Smush is an award-winning WordPress speed optimization plugin that mainly focuses on image optimization. It turns on the lazy load for images, resizes them, compresses them, and improves the overall speed incredibly. While optimizing the pictures, the plugin ensures that it never affects the quality of images.
Interestingly, the plugin optimizes and compresses up to 50 images at once. You can similarly set a maximum width and height to scale down the large images while compressing. On top of that, the plugin is entirely free and doesn't have monthly limits for optimizing the images.
Key Features
Option for automatic optimization
Incorrect image size detection
Global and individual multisite settings are available
Gutenberg block integration
Price: Free
---
LiteSpeed Cache is another page speed optimization WordPress plugin with an exclusive server-level cache. It has various optimization features with multisite support. Along with this, it's also compatible with popular plugins such as WooCommerce, Yoast SEO, and bbPress.
Further, it has private caching features for logged-in users while having automatic page caching. At the same time, separate caching for the desktop and mobile views is also available. Additionally, the majority of the popular themes and plugins are compatible with LiteSpeed Cache.
Key Features
Automatic page caching
API system available for easy cache integration
Smart preload crawler is available
SEO-friendly sitemap
Price: Free
---
The CDN Enabler plugin allows you to integrate a CDN with your WordPress site effortlessly. A CDN is a network of distributed servers spread around the world. These servers store and provide copies of your WordPress site to your visitors. And, the closest server delivers the content so, your site loads faster than ever.
To use CDN Enabler for your site, you need to sign up for a CDN and get your CDN URL. You can quickly link your site's content to the CDN URLs. Then, you can enter your CDN URL in the plugin dashboard. Furthermore, you can quickly link your site's content to the CDN URLs.
Key Features
Able to link assets to load from a CDN
Allows you to set included directories and define exclusions
Option for enabling or disabling HTTPS
Supports WordPress multisite network
Price: Free
---
Conclusion
Therefore, improving speed or performance is very important for every successful website. If you're a WordPress user, then you can easily take the help of speed optimization plugins. It makes your WordPress website faster in no time.
That's all from our side on the best WordPress performance plugins. So, you can choose the plugins as per your site's requirements. If you're still confused about which plugins you should select then, don't worry! Let's help you again.
For caching, you can choose WP Rocket (premium plugin) or W3 Total Cache (free plugin). And, ShortPixels is all you need for image optimization for your site.
You can check out more plugins you might need for your website such as WordPress SEO plugins and WordPress restaurant menu plugins.
If you found this article helpful, please do share it around your circle. Also, follow us on Twitter and Facebook to get notified of every new article.