Looking for the social sharing plugins for WordPress? Or having difficulty choosing the best social share plugin for WordPress?
Don't worry! We're here to help you.
Social sharing plugins for WordPress are spectacular plugins that let you add the best social media share buttons for WordPress websites. So that every blog post of yours can be shared among massive audiences. As a result, you can gain more traffic to your website.
Facebook share post WordPress plugins make it possible for better user interaction and engagement on the most popular social platform Facebook. And helps to improve search engine rankings of your blog posts with a little effort.
We've screened the best social share plugins for WordPress in this article. So that you can use this WordPress plugin to share posts on social media without any second thought.
Why Do You Need a Social Sharing Plugin for WordPress?
There's no need to explain the importance of online social media nowadays. Be it for business, blogging, or any other purposes, online social media has been an unavoidable strategy for marketing and branding for sure.
The most simple method of incorporating online social media to your WordPress site is by using social sharing plugins. Best social share plugins for WordPress offers you the following benefits:
Add the best social media share buttons for WordPress. So that users can easily follow, like, share, or comment on your posts.
Display social media icons with links to building social followings. Audiences can click on that link and follow you.
Add a social feed from social networks like Facebook, Twitter, Instagram to give insight to your audiences about your social page.
Create a social login page so that users can register and login to your site with the existing IDs.
Automatically share your post content on social media and save your time for scheduling and sharing posts.
---
14 Best Social Share Plugins for WordPress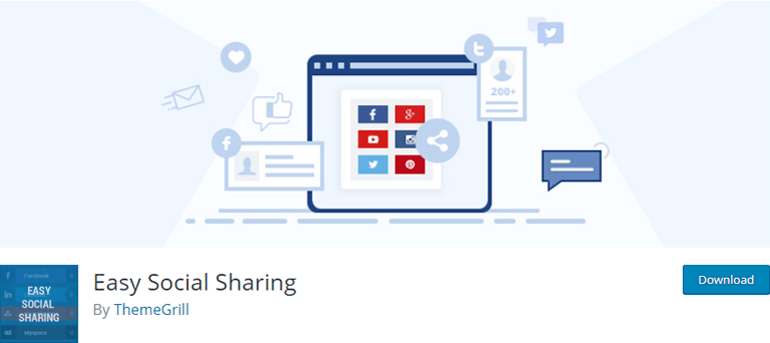 Easy Social Sharing by ThemeGrill is the best social sharing plugin for WordPress. Your posts, pages can be shared with large audiences with 18 popular social sharing buttons. The buttons are simple yet beautiful. And you can select from multiple designs of buttons to suit your posts.
This plugin allows you to show buttons at different positions like above the content, below the content, or both. Further, you can add floating social buttons to any of the sides (left or right) of your post. It also supports the social share count feature. You can make all these settings right from the dashboard without any difficulty.
Features:
Live preview of backend
Cache instant load
Multiple Design layouts
4 Icons layout
Ajax count update
Pricing: Free
---
Sassy Social Share is a smooth WordPress social media plugin. It enables your website visitors to post content over several social media sites. In this plugin, you'll find Standard and Flying layout for social share icons. Besides, you can rearrange the order of these icons and set its background and logo colors as well.
The plugin allows enabling and disabling several functionalities. For instance social sharing on default or custom post types, social sharing on individual pages, and posts. You can also enable or disable individual or total share count(s). Moreover, it's compatible with BuddyPress, BBPress, WooCommerce.
Features:
100+ social sharing services
Gutenberg compatible
3 Icon styles (Round, Square, and Rectangle)
Top and bottom positioning of social sharing bar
Social media follow icons to redirect website visitors to your social media profiles
Pricing: Free
---
MashShare is a free yet highly customizable social media plugin. It's one of the well coded and high-performance social sharing plugins. MashShare doesn't use any external scripts that increase load times. That means with MashShare you can share your valuable post content without slowing down your website.
This amazing plugin provides you with free add-ons for setting social sharing images, title, description, Twitter hashtags, etc. Moreover, free and paid add-ons are available for more Social Share buttons, Sticky Share bar, Google Analytics, etc to further enhance functionalities.
Features:
Easy-to-use share buttons
Smart share count functions
Disable share counts using shortcodes
Translated to multiple languages (German, Spanish, Turkey, etc)
Developer friendly
Pricing: Free
---
Shared Counts is an amazing WordPress plugin to share posts on social media. It consists of several popular social sharing options like Facebook share, Twitter share, Google, LinkedIn, etc. The plugin has an HTTP recovery option to make sure that you don't lose your shared count while upgrading your website to HTTPS.
It has all the functionalities required for sharing your valuable content. However, it offers popular add-ons to further enhance functionality. Shared Counts – Pinterest Image lets you upload images for Pinterest sharing. Shared Count – Cache Status lets you build/check the status of shared counts cache.
Features:
Multiple share button styles
Unique caching method to prevent slowing down of the site
Developer friendly shared counts
GDPR (General Data Protection Regulation) compliant
SharedCount.com API to retrieve all share counts in a single request
Pricing: Free
---
Social Media Share Buttons & Social Sharing Icons is a popular social media sharing plugin with 200,000+ active installations. The plugin allows adding the best social media share buttons for WordPress like Facebook, Twitter, Instagram, LinkedIn, and so on. Additionally, it lets you upload custom share icons of your choice.
It features 16 designs for social media share icons. You can also display pop-up requesting your audiences to follow you or share your content. The free version of this plugin has an abundance of features on its own. However, you can also add more exciting features to the premium version.
Features:
Display share counts to social share buttons
Give an animation to the social media icons
Floating and sticky social media icons
Enable visitors to subscribe to your blog by Email
Unlimited plugin support
Pricing: Free or $29.98
---
Social Warfare is a plugin built by social media marketing experts and world-class developers. It's a wonderful WordPress plugin to share posts on social media. It offers the popular share buttons that look amazing on any mobile device. Besides, with the Social Proof tool, you can display a shared count predominantly.
You can place the share buttons to the area of your choice: above the post content, below the post content, above or below the post content, none, or manual placement. Also, you can display a floating share bar when the static or non-floating buttons aren't visible.
Features:
Beautiful and blazing fast social share buttons
Display popular post based on a social share count
Click to tweet post
Display social sharing button anywhere using shortcodes
Pro-version to upgrade to more exciting functionalities
Pricing: Free or $29/Year for 1 site
---
Jetpack is all in one WordPress plugin. This plugin performs several functions for your website including social media sharing. It allows sharing your valuable content from the social media accounts of your website visitors like Facebook, Twitter, LinkedIn, Reddit, Tumblr, Pinterest, WhatsApp, etc.
The social Icons widget of this plugin enables you to add icons for the popular networks easily. You can show these social share buttons on the Front Page, Archive Pages, and Search Results, or Pages, Posts, and Media, etc. Besides, you can live preview on how your post or pages look like on social media.
Features:
Select suitable button styles (Icon +text, Icon only, Text only, or Official buttons)
Add Like button to your post and pages
RSS links to add links to your blog post
Change the Sharing Label as per your need
Automatically share your posts to a social network using the Publicize connections feature
Pricing: Free or $19.95/Month for Security Daily
---
AddToAny is a simple social sharing plugin for WordPress. As the name suggests, you can add AddToAny anywhere where you want it to appear. It allows you to add standard share buttons that can be scaled to any size. Also, you can place the share buttons before the content, after the content, or before and after content.
This floating social share bar plugin allows adding a social share button in vertical or horizontal positions. That displays perfectly onto any mobile device. Universal email sharing further eases sharing easy via Gmail, Yahoo Mail, Hotmail, etc. AddToAny doesn't need registration, social logins, or accounts to manage.
Features:
Follow buttons to add a link to your social media profiles
Image sharing buttons to enable image sharing to social networks
Integrated with Google Analytics to share analytics
Display share counts on posts and pages
Highly extensible plugin for developers or designers
Pricing: Free
---
Revive Old Posts is the best social share plugin for WordPress. It's suited for both small blogs and websites to large blogs and websites. With this plugin, you can curate WordPress content. That means you can filter the posts that you don't feel like sharing on social networks in a few clicks.
With pro-version you can further get access to features like support for custom post types. You can automatically share images and videos from your media library to social media. It enables you to set the days of week and time you would like your post to share using a custom schedule feature.
Features:
Auto-post to social media once you publish your blog post
Specify how often you can share your posts to social media
Schedule the time between post shares on social network
Google Analytics to track your social media sharing
URL shorteners to shorten the links for your post content
Pricing: Free or $75/Year for 1 site
---
Scriptless Social Sharing is a small-scale Facebook share post WordPress plugin. The plugin is very simple and sorted. Nothing fancy is included in the plugin. So if you're looking for a simple social sharing plugin then it's perfect for you. The website visitors can share your content using several share buttons.
Since the plugin has a small and easy setting page, unlike another fancy social sharing plugin. You can quickly make decisions on which sharing buttons to include. And which content types should have the buttons and at what positions. You can make button location settings like before content, after content, or manual placement.
Features:
Drag and drop to reorder buttons or use the number inputs
Choose from multiple button styles
Allow developers to use filters throughout the plugin
Share the links using the basic method to each social network
Translated into 6 languages
Pricing: Free
---
Monarch is the best premium social sharing plugin by Elegant Themes. You can choose from over 20 best social media share buttons for WordPress. It enables you to add social share buttons to 5 different locations according to your site's needs. You can add buttons above the content, below the content, or in both locations.
Besides, this floating social share bar WordPress plugin allows adding a floating sidebar as well. You can select the button shapes, colors, and hover effects to customize the buttons. Moreover, you can configure your display settings like lazy loading animations, share count display, column structure, etc.
Features:
Add Share buttons to share media like images and videos
Allow adding Automatic sharing pop-ups
6 Different Automatic pop-ups and Fly-In trigger
Place the follow button to the desired widget area or display with a shortcode
Extremely mobile-friendly social sharing plugin
Pricing: $89/Year for unlimited websites
---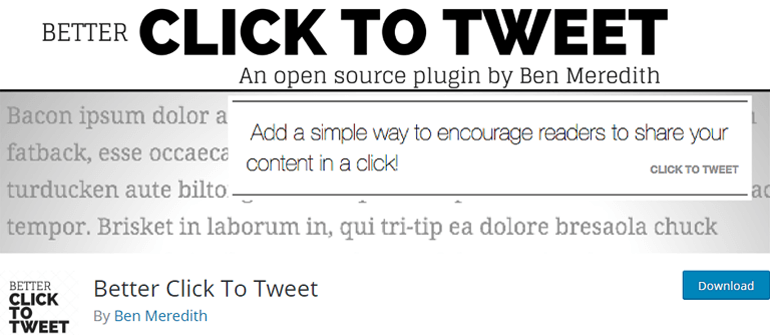 Click To Tweet WordPress plugin is a popular click to tweet solution for WordPress. With this plugin, your content visitors can tweet a quote and link to your content. For this, you've to add a simple shortcode to make your content tweetable. Moreover, the premium Styles add-on enables styling Click To Tweet boxes easily.
You get an option to choose from several styles like Blue @pattern background, High Contrast Black and White, Black Left Side Pull Quote, and so on. Further, with the premium add-on, you'll get the UTM Tags sub-menu. UTM Tags allows you to add UTM tags to the URL that the reader can click to return to your site.
Features:
Gutenberg block compatible
Supports URL shorteners to shorten links of post content
Extendible plugin for developers and designers
Translated into 11 locales
Track Click To Tweet boxes performance
Pricing: Free or Premium Styles $29.99/Year for 1 site
---
Smash Balloon Social Photo Feed is an awesome Facebook share post WordPress plugin. The plugin is simple to set up and offers tons of customization options. You can display your content exactly the way you want. This plugin enables customizing height, width, number of photos, image size, background color, and many more.
The plugin lets you add photos from multiple Instagram accounts in the same feed or different feed. You can display a thumbnail, medium, or full-size photo from the Instagram feed. Also, you get to display Instagram photos chronologically or in random order. It even allows you to display a beautiful header at the top of your feed.
Features:
Display multiple Instagram feeds
Load More button to load more of the Instagram photos
Shortcodes to completely customize your Instagram feeds
Follow on Instagram button at the bottom of the feed
Customize the CSS or Javascript
Pricing: Free or $49/Year for 1 site
---
Novashare is the best social share plugin for WordPress. The plugin uses inline SVG icons making it lightweight and blazing fast. You can choose from 17+ best social media share buttons for WordPress. The plugin has a Follow widget to enable readers to connect to you on social media networks.
This plugin has got an easy user interface to configure the settings. It lets you select the button alignment, change the shape, size, color to match the WordPress site's branding. Further, it enables an inline share button, floating share bar, or both. You can select the area to display buttons like posts, pages, custom post types.
Features:
GDPR friendly
Click to tweet block
Unlimited support from developers
Social share count recovery feature to recover lost social share count
Specify breakpoints where you want share buttons to appear on mobile
Pricing: $29.95/Year for 1 site
---
Which one is the Best WordPress Plugin to Share Post on Social Media?
Social sharing plugins for WordPress lets your website visitors share your content over various social media networks easily. Different social sharing plugins have different features to offer. However, it's essential to choose the best WordPress plugin to share your content on social media without slowing down your site.
We've mentioned a handful of the best social share plugins for WordPress above. You can choose any of them depending upon your site's requirements. If you're still confused about which social sharing plugin to choose then we suggest using Easy Social Sharing.
Easy Social Sharing is a free plugin but offers premium-like features. You can choose from 18 popular social sharing buttons that can be placed in different positions. It's best known for its ease of use but in case you encounter any problem then you can get free support.
Hopefully reading this article helped you choose the best social share plugin for the WordPress website. You may also like to read our article on the best page builder plugins to create a beautiful and unique website. Or the best WordPress SEO plugins and tools to optimize the SEO of your site.
Please share this article if you liked it. You can also leave us your valuable comments and suggestions in the comment section below.