There are many ways to set up an online business in WordPress. You may think of WooCommerce integration when it comes to selling things online. However, it is definitely not the only option you have. Another great method is to create a WordPress PayPal Form to easily sell products and get secure payments on your website.
Yes, you heard it right! Creating a WordPress form with PayPal as the payment option is actually the easiest way to accept payments in WordPress. You can create a form where the customers can choose the products to purchase. And, integrating PayPal to payment forms will make the transactions safer for the users.
It may sound complicated right now, but don't worry! After reading this WPEverest tutorial, you'll be able to create a WordPress PayPal payment form effortlessly.
How to Create a WordPress Form with Payment option?
If you are a WordPress website owner then, the best way for integrating payment gateways to your form is by using a plugin. Although there are many plugins for this purpose, we recommend our Everest Forms plugin.
Everest Forms lets you create amazing forms with the easy drag-and-drop feature. And, using our premium PayPal Standard add-on, you can accept PayPal payments on your forms with no trouble.
The PayPal Standard add-on is available on our Everest Forms Pro Agency, Professional and Plus plans. If you want more details on the pricing, go to our Plans and Pricing page to choose the best plan for you.
Note: You can choose any payment gateways like Stripe or PayPal on your WordPress forms. But, we are using PayPal for this tutorial. It is a reliable and secure payment method for online businesses.
STEP 1: Create a New Form
After you download and install the plugin, you need to create a form. So, go to Everest Forms → Add New and create a new form.
Then, you can easily drag and drop the form fields that you require from the left side of the form builder.
STEP 2: Add Payment fields
Then, if you scroll down you can see the Payment Fields there. These fields allow you to display products and their prices on the form.
So, there are four Payment fields offered in Everest Forms.
And, you can change the Name, Description, Price and other details of these fields as per your requirements
Single Item: Displays Single product item with the price on the form.
Multiple Choice: Allows customers to choose one item from multiple items.
Checkboxes: Allows customers to choose more than one items.
Total: Shows the total amount of items selected by the customers.
STEP 3: Enable PayPal as a Payment Option
After that, go to the Payments tab on the top of the form builder. Then, Enable PayPal Standard if it is not enabled already.
STEP 4: Configure PayPal Settings
Then, you need to fill the Email address that is linked with your PayPal account in the PayPal Email Address field.
Once you're done with the settings, Click on SAVE.
STEP 5: Add Form to your Website
To add the form to your site, go to Pages → Add New. On the block editor, click on the Add block icon and search for Everest Forms and select it.
Then, select the form that you created and that's it.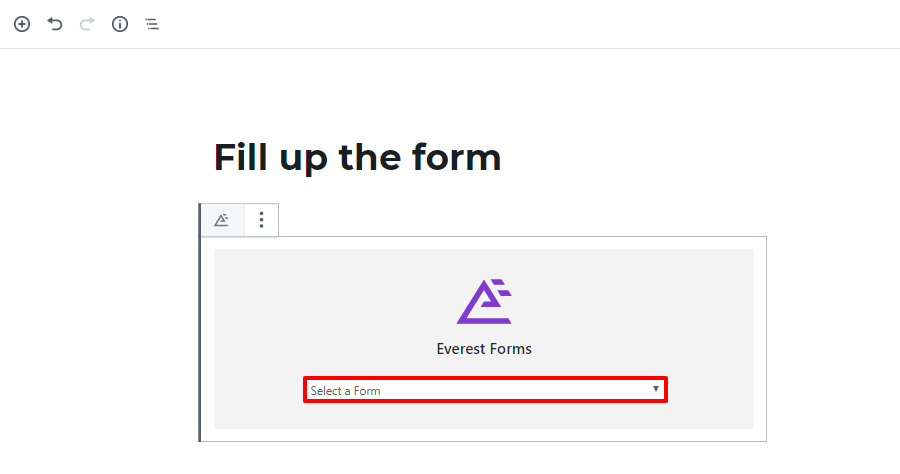 Also, Everest Forms provides a shortcode for each form that you create. So, you can just insert the shortcode to any post or page to add the form to your site.
Wrapping it up:
Therefore, it's easier and faster to sell product through your site if you create a WordPress form with payment option. With Everest Forms, you can create amazing forms with payment fields. Also, using our premium PayPal Standard add-on, you can payments safely.
Don't forget to share if you found this tutorial helpful!