Are you looking for a user registration admin approval plugin for your WordPress website? Then, this list of the best user approval WordPress plugins is just the thing for you.
When a user registers through a front-end form in WordPress, they're automatically approved by default. This is quite handy for site owners who don't need to moderate the user registration process.
But if needed, you can make it so that every registration requires the admin's approval. Now, this is only possible through plugins that facilitate admin approval. That's because WordPress doesn't come with the built-in admin approval feature.
That's why we've curated a list of the best admin approval plugins for you. So, read ahead to learn more about them.
Why Enable Admin Approval in WordPress Registration Forms?
As we mentioned earlier, you can either stick with automatic user registration approval or use a WordPress plugin for admin approval. However, there are a few advantages the second method holds over the default one.
As an admin, you can block spam form submissions by moderating each registration. This ensures that only genuine users are interacting with your website.
If you have limited membership seats on your website, approving registrations yourself means you get to select suitable candidates for the membership and reject others.
Suppose your website prioritizes an audience of a specific niche or demographic. In that case, you should approve users manually to register only relevant ones.
That's why we recommend enabling admin approval in registration forms. Now, let's get right into our list of 8 amazing WordPress user registration admin approval plugins without further ado.
---
8 Best WordPress User Registration Admin Approval Plugins
User Registration is the best WordPress plugin you could use for admin approval in registration form submissions. It comes with four user login options: manual login, automatic login, email confirmation, and admin approval. All you have to do is configure the form's settings to enable this admin approval option.
Once a user fills the form and hits the submit button, they'll see a front-end message telling them to wait until admin approval. Then, the admin can approve or deny the registration from the 'Users' tab. As simple as that!
And the cherry on top is that you can create any type of custom user registration form for your website since this is a registration form builder plugin.
Key Features:
Pending status for users awaiting approval
Custom front-end admin approval messages for users
Send email notification to the user upon approval or denial
Configure the emails for admin and user
In-built login form and user profile page
Price: Free or Premium plans start at $79/year
---
If you want a plugin focusing solely on admin approvals, then New User Approve is the one for you. At its core, it allows admins to manually approve or reject registrations submitted through a front-end form. So, only approved users will be able to log in and access the content on your website.
However, there are much more features to enjoy in the premium version. For instance, you can reduce your workload by creating a custom invitation code or generating one automatically. The plugin then auto-approves all the users that register using the invitation code.
Key Features:
Approved status for existing users
Clean and user-friendly interface
Send notification emails to all admins
Send custom approved or denied emails to users
Whitelist or blacklist users for automatic approval or denial
Price: Free or $39/year for 1 Site License
---
WooCommerce Email Verification is a must-have admin approval extension for the core WooCommerce plugin. It lets the admin manually approve or decline WooCommerce registrations from the dashboard. Plus, the admin can view the status of the newly registered customers; whether they're approved or pending approval.
However, the main purpose of this plugin is email verification as the name suggests. So, you can use it generate verification links upon successful user registrations. The link is sent to the customer through email so that they can verify they're a genuine user.
Key Features:
Ability to restrict specific user roles in WooCommerce registration forms
Customize front-end success and error messages
Send dynamic customer details in emails using short tags
Edit email heading, subject, and body message
Integrates with the default WooCommerce email system
Price: $14 for a Regular License
---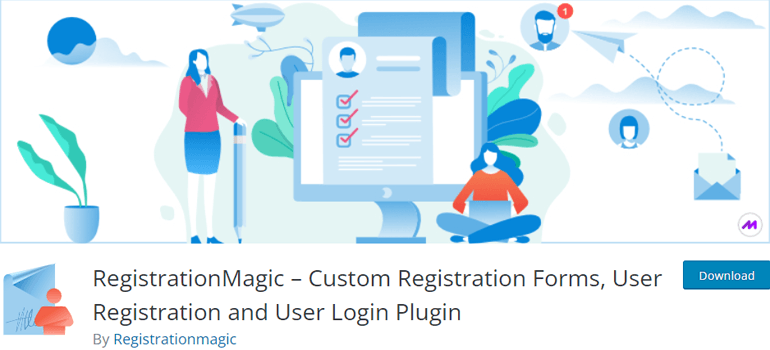 Another user registration WordPress plugin on this list is RegistrationMagic. So, you'll not only be able to create custom registration forms but also permit admin approval for the form.
When you turn on this method of account activation, the freshly registered user's account remains in a deactivated state. Only after the admin approves their account will the user be able to log in.
Now, beginners might find this plugin's interface a bit complicated at first. However, this also means that you get plenty of amazing features to enhance your registration forms.
Key Features:
Add custom user roles
Configure email notifications
Form and field analytics
Form dashboard to monitor form submissions
Create paid user roles
Price: Free or $89/year for 1 Site License
---
As the name suggests, WP User Manager helps you manage all the registered users on your website. This includes creating custom user profiles, registration, login, and password recovery forms. Most importantly, the plugin offers the user verification feature as a paid add-on.
With this feature, you'll be able to approve and reject pending users individually or in bulk. Admins can also manually resend verification emails to users if necessary. Apart from that, it comes with email templates for user approval and rejection, which you can customize as per your needs.
Key Features:
Edit capabilities for default user roles
Spam protection with Google reCaptcha
Allow social login and registration
Send a test email to an email address of your choice
Provide front-end posting for users
Price: Free or $149/year for 1 Website License
---
If your only concern is securing the user registration forms on your site, All in One WP Security & Firewall is the perfect solution. Simply enabling the manual admin approval for front-end forms helps to reduce spam submissions significantly.
But that's just the tip of the iceberg. This plugin even offers protection for user accounts and login forms as well. Most importantly, you can add firewall security to your website and block malicious scripts. And with the database and file system security features, you can rest assured that your site is protected well.
Key Features:
Google reCaptcha or plain maths captcha to block spam
Defense against brute force login attack
Monitor account activity of all users
Whitelist specific IP addresses
Export and import security settings
Price: Free
---
Profile Builder is an awesome plugin that lets WordPress admins approve new user registrations on your website. It's entirely up to you whether you choose to moderate the registrations through emails or from the WordPress dashboard itself.
If there are multiple admins on your site, the plugin sends the user notification emails to all of them. Moreover, you can edit the content of the emails being sent to both the admin and users. But it's important to note that you'll have to upgrade to a premium version to use these features.
Key Features:
Users can edit their profile from the front-end
Approve or reject user profile edits
Manage user roles with Role Editor
Restrict content based on user roles and logged-in status
Invisible reCaptcha support
Price: Free or €69/year for 1 Site License
---
Last on this list is UsersWP. It's a fantastic WordPress plugin that facilitates admin approval after user registration through a paid add-on. It lets the admin review each registration request before approving or rejecting them from the dashboard. The user is then notified through email whether their account was approved or denied.
UsersWP serves the same primary purpose as Profile Builder. It provides shortcodes for you to create a front-end registration form, edit account form, and more. However, a major perk of this plugin is that it's incredibly lightweight. So, you don't have to worry about your site slowing down.
Key Features:
Easy customization with popular page builders
Dummy users available for testing
Shortcodes available as widgets and blocks
Free social login extension
Quick and easy setup process
Price: Free or $199/year for add-ons bundle
---
Wrapping Up
In this list, you'll find plugins that just focus on enabling admin approval for user registration forms. We've also included registration, user profile, and security plugins that provide admin approval as either a free feature or a paid add-on.
It's hard to pinpoint which plugin among these is the absolute best. It depends on whether you simply want manual approval without any distractions or extra functionalities along with it.
For instance, you can use New User Approve to simply accept or decline user registrations. Or, you can go for User Registration if you need to create custom registration forms as well as enable admin approval for them.
And that's it for this article! Explore more WordPress-related posts in our blog. Also, follow us on Twitter and Facebook for future updates.
Disclaimer: Some of the links in the post may be affiliate links. So if you purchase anything using the link, we will earn affiliate commission.