Looking for the best get a quote WordPress form plugin for your business website or online store? Then, you've just landed on the right page.
In simple words, request quote WordPress plugins are the add-ons that allow adding a request quote form on your website. As a result, the whole process of requesting, accepting, or rejecting the price quotation functionality becomes super easy.
In this post, we'll share a list of the best request a quote WordPress plugin that will help you streamline the quotation request from your customers.
Let's start by briefly talking about why we need to request a quote WordPress plugin first!
Why Do You Need Request a Quote Plugin for WordPress?
Not every business website can readily list the prices for its products and services. Some businesses like fencing, gardening, house painting, etc. need specific details from the customers for price quotation. And this is precisely where the request for a quote WordPress plugin comes in handy.
The plugin simplifies and automates the price quotation functionality on your website. Your customers can provide the necessary details about the requirements regarding your products or services. Consequently, you can determine the accurate price without any confusion.
Besides, the quote request option also allows your customers to negotiate the price. Thus, you can offer a better deal, especially to your existing customers, and make them happy and satisfied. This means you can retain them on your site for a long time.
On top of that, hiding prices on your product page and adding a quotation form instead can highly encourage your customers to contact you directly. So, you get the huge opportunity to improve the conversion rate and lead generation, ultimately leading to more sales.
With that said, it's time to explore a list of the best add to quote WordPress plugins.
---
10 of the Best Get a Quote WordPress Plugins
We've carefully selected the best WordPress request a quote plugins for your site. You can choose anyone from the list given below depending upon your requirement. Without further ado, let's dive in!
As powerful as its name, Everest Forms is amongst the top contact form plugins for WordPress that take your form-building experience to the peak. Whether you're a beginner or an advanced user, this plugin permits building professional forms with its intuitive drag and drop interface in minutes.
Additionally, this feature-rich form builder plugin also offers you special form field options. Thus, you can create a quote form with multiple-choice options, checkboxes, etc., to allow your users to choose from multiple services you provide on your site. Furthermore, you can apply conditional rules to display the form fields based on the user's previous input.
Key Features
Pre-built Templates: Ready-to-use form templates eliminate the need to create a form from scratch and help you quickly set up your form.
Real-time Email Notifications: Get instant notifications whenever your visitors submit a request for a quote form. You can also send a confirmation email to your users to let them know you've successfully received their form.
Easy Form Field Setting: Configure your form field settings easily. Add field label, description, mark field as required, and more.
Form Designer: Use the live form designer tool to play around with spacing, background, color, fonts, etc., to make your quote request form look great.
Form Entry Management: View and manage all the form entries from the users right from your WordPress dashboard.
Cost: Free or $49/Year for Personal Plan
---
An incredible form building solution, WPForms allows building any kind of form with perfection. Further, to help you lessen your burden, it also comes with several pre-built templates, including a template for request a quote form. The plugin is extremely easy to use with its drag and drop interface and several customization options.
Similar to Everest Forms, WPForms also comes with multiple form fields that you'll require to build a comprehensive get a quote form in no time. You can incorporate fancy fields like multiple choice, checkboxes, file upload fields, date/time, etc. So, your users can choose from the different options with ease.
Key Features
Form Customization: Customize your form to match your branding and collect all the required information from your users without hassle.
Conditional Logic: Personalize your form using the conditional logic feature. Show or hide specific form fields based on the user's interaction with previous fields.
Ajax Form Submission: Allow your users to submit a form without reloading a page.
Spam Protection: Integrated with hCaptcha and Google reCaptcha to prevent spam form submission.
Form Notification and Confirmation: Receive notification whenever users request a quote on your site and display a confirmation message to let them know their form is processed.
Cost: Free or $39.50/Year for Basic Plan
---
Formidable Forms is a top drag and drop form builder plugin for WordPress that allows creating interactive forms effortlessly. You can also break your complex forms into multi-step forms to collect necessary information from users. Further, the Repeater Field option lets your users add a new set of fields as per their needs while filling out forms.
You can also style different aspects of your form like color, borders, padding, etc., using Visual Form Styler. Again, this advanced form building solution lets you integrate a calculator to your request a quote form to calculate the quote for your visitors automatically. On top of that, the calculated quote is emailed to your visitors right away, thus providing a great user experience.
Key Features
Confirm Email Address and Password: The plugin allows you to double-check the email and password for possible errors and typos.
Form Submission Management: Easily view, organize, update, and delete form submission from the frontend and backend.
User Tracking: Track your users to find out which pages they visit before submitting the form.
Powerful Integrations: Enhance the functionality of your form with powerful add-ons like Mailchimp, HubSpot, Zapier, Active Campaign, etc.
Collect Payments: Use secured payment gateways like Stripe, PayPal, etc., for receiving instant payments.
Cost: Free or $39.50/Year for Basic Plan
---
Request a Quote is an easy-to-use get a quote form plugin for WordPress which allows you to process all the quote requests efficiently. You can build a customizable quotation form using an intuitive plugin setting option and allow customers to select from the different products and services.
Besides, you can choose to enable only the logged-in users to submit a quote request form using the Private Quote feature. All the submitted quotes and inquiry requests can be stored and displayed in a frontend. Furthermore, using the EMD Advanced Filters and Column Extension, you can filter the important quote request quickly and easily.
Key Features
Upload Files: Clients can upload their necessary files and images along with their requests using the file upload field.
Compatible with Major WordPress Themes: This plugin is designed carefully to minimize conflicts with the themes. Thus, it's compatible with all the well-coded WordPress themes.
Categorize Quote Requests: Quickly mark the submitted quote request as a draft, delivered, on hold, or closed to prioritize the important ones.
Accept Quotes from Any Devices: Users can submit the quote request forms via any of the devices like mobile, tablet, desktop, etc.
Customizable Quote Request Form: Easily set up your sales quote request form by adding required form fields, editing form field column size, making your form field required/optional, etc.
Cost: Free or $149.99/Year for 1 Site
---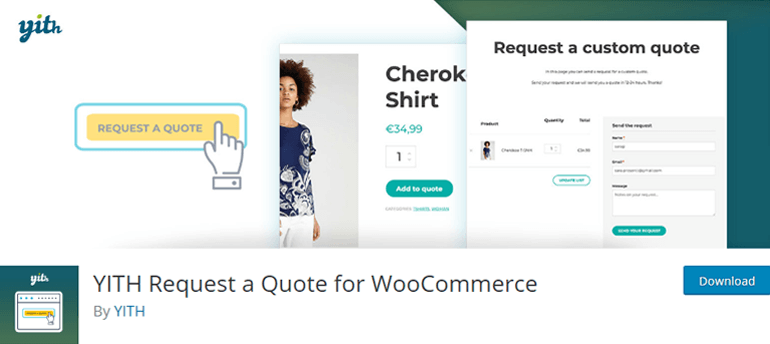 If you're a WooCommerce plugin user, YITH Request a Quote for WooCommerce is the best option for you. This free WordPress request a quote plugin lets you hide the prices or add to cart buttons for your products and display the add to quote button instead. Thus, an email is received whenever customers request a quotation, and you can reply with a custom quote.
This add to quote WordPress plugin lets you display the quote request button on all your product pages. So, users can easily add the selected products to the list, fill the form, and submit it to get a custom quote. Also, you can upgrade to the pro version of the plugin to get more advanced features.
Key Features
Display Add to Quote Button or Link: Hide prices and add to cart button and display add to quote button or link in all product pages.
Customize Add to Quote Button: Easily change the color and style of your add to quote button as you see fit.
Automatic Email Notification: Get an automatic email notification as soon as a user requests a new quote.
Compatible with WooCommerce Plugins: This plugin is tested for compatibility with several WooCommerce plugins like YITH WooCommerce Save for Later, YITH WooCommerce Catalog Mode, etc.
Premium Version Available: Add more quotation request features by upgrading to the pro-version of the plugin.
Cost: Free or €69.99/Year
---
Sliced Invoices is an intuitive yet feature-rich WordPress plugin for creating get a quote form and invoices. It comes with several pre-designed invoices and quotes templates. Hence, you can choose one and get your invoice or quote form ready in no time. Further, if you're an advanced user, you get an additional benefit of adding CSS to design the layout of invoices and quotes as per your desire.
With Sliced Invoices, you can easily clone your quotes and invoices and set the custom prefixes and suffixes. Likewise, it also lets you import quotes and invoices as CSV files in bulk. Besides, you can add a logo and business details to invoices and quotes to enhance the branding of your business and attract more customers.
Key Features
Create Unlimited Invoices and Quotes: This plugin allows creating unlimited invoices and quotes without any limit.
Invoice and Quote Templates: Choose from 3 customizable invoice and quote form templates if you don't want to start from scratch.
Pre-defined Line Items: Add as many pre-defined line items as you want to save your time while selecting items in invoices or quotes.
Automatic Payment Reminder Emails: Send automated email notifications to remind your customer about the payment.
Responsive Design: Create professional invoices and quote forms that look equally good on any device (mobile, laptops, tablets, etc.).
Cost: Free + Premium Extensions Available
---
As the name suggests, eCommerce Product Catalog is a beautiful and fully responsive WordPress plugin for product catalog websites. However, with the Quote Form extension, the plugin also delivers an amazing request a quote feature on your WordPress site. You can add a quote button and customizable quote form to get the quotes from your clients using this extension.
You can place the quote form anywhere on your site using the quote_form shortcode. Also, you can display it on your sidebar using the quote form widget. Not to mention, it also enables you to set the email address to get quote requests notifications from customers and send the confirmation message to customers.
Key Features
Drag and Drop Editor: Build a perfect request for quote form like a pro using the drag and drop interface of the plugin.
Customize Quote Form: Use default or effective design for your quote form or utilize CSS files to tailor your quote form according to your need.
Customize Quote Button: You get options to style your quote button, define button text, display button on the top or bottom of a product image, add a link, etc.
Editable Email Templates: Both the admin and user email template is fully customizable. You can easily edit the email template fields and determine how your email looks.
Various WordPress Plugins Compatible: It's compatible with several WordPress plugins like WooCommerce, Product Catalogue Simple, and so on.
Cost: Free or $49 for Quote Form Extension
---
Built with simplicity in mind; Cost Calculator is popular get a quote WordPress plugin that helps you create quote and price estimation forms with ease. If you don't have time to build a form from the ground, you can get started quickly with beautiful ready-to-use demos. Best of all, you can import these demos with a click of a button.
This add to quote WordPress plugin allows you to configure the general, design, or calculation setting for the items individually. Whenever your clients add the desired product to the cart, it automatically calculates the total value by adding or multiplying the assigned price for the product. Moreover, you can view all the submission logs directly from your admin panel.
Key Features
Page Builder Plugins Compatible: Seamlessly integrates with popular WordPress page builder plugins like Elementor, Gutenberg, WP Bakery, etc.
Fully Responsive Design: All the form designed using Cost Calculator is 100% responsive so it adapts perfectly on any devices your users might be using.
Loads of Form Field Elements: The plugin features different form fields such as Textboxes, Numeri Sliders, Advanced Dropdowns, On/Off Switcher, etc.
Custom Accent Color: Customize your quote and price estimation form by choosing your accent color.
Compatible with WordPress Themes: Cost Calculator works perfectly with all the major WordPress themes. So, you can be at peace that the plugin won't hamper your website at all.
Cost: $29 for Regular License
---
ELEX WooCommerce Request a Quote is a premium plugin that allows adding an add to quote option on your site with or without add to cart button. With this awesome add to quote WordPress plugin, your customers can choose the products and add them to the shopping cart or the quote list as per their needs readily.
You can place the add to quote option for all products on the shop page and the product pages. Again, this plugin also enables you to request a quote only for the selected products and user roles based on the product type and its stock availability. In a nutshell, it makes the entire process of requesting and approving the quotes smooth as butter.
Key Features
Accept, Modify, or Deny Quotes: Easily approve, modify, or deny quote requests from the customers directly from the order page.
Email, Chat, and SMS Notifications: Admin can get a notification via email, Google Chat, or SMS whenever a new quote request is submitted.
Order Status Notifications: Notify your customers to inform them whether their request is received, approved, or rejected.
Custom Notification Template: Customize the notification templates for email, chat, and SMS, which are sent out to the admin and the customers.
Add to Quote Button Configuration: Edit the text, color, and choose the required action for your add to quote button.
Cost: $59 for 1 Site
---
WISDM Product Enquiry Pro is the best product inquiry and request a quote WordPress plugin for your WooCommerce site. Using this plugin, your customers can send bulk inquiries or request quotes for multiple products of their interest. Besides, the built-in form editor helps you add custom fields to adapt the form to your special needs.
Moreover, you can set the default variations option for different products on your product page with an inquiry button visible for variation within a product. This way, your customers will be able to collect more information for product varieties with ease. Furthermore, you get complete control over the product price visibility to invoke your customers to contact you directly.
Key Features
Customer Quotation Search Option: Save your precious time by searching for the inquiries or quotations by your customer's name, email address, product ID, etc.
Mini-cart Widgets: Add a mini cart widget on the product page to help your customers keep track of their product inquiries to avoid repetitions.
Create Quotes in WordPress Backend: Create and reply to the quotation requests in PDF format from your WordPress backend. This helps you to send the quotes to and fro the customers until an agreement is made.
Dashboard View of Inquiries and Quote Requests: View the inquiries and quotations from the customer at a glance right through your dashboard. You can also filter the inquiries for better analysis.
Translation Ready: Seamless integration with multi-lingual plugins allows accepting the quote request from customers across the globe in their native language.
Cost: $80/Year for 1 Site
---
Wrapping Up
A simple quote request form on your site lets your customers request price quotations and offers them the opportunity to negotiate with ease. This opens up a gateway for boosting conversion and sales for the growth of your business. Thus, you must choose the finest plugin for this purpose.
Above, we've presented you with the top WordPress quotation plugins for your site. We hope that you've made your choice. Still not sure which one to pick? Then we would like to suggest you Everest Forms.
It's an all-in-one form-building solution meticulously designed for your WordPress site. And creating a quote request form isn't an exception. It comes with all the special form field options and settings to empower you to create beautiful forms without any hassle. Besides, YITH Request a Quote for WooCommerce is an excellent option if you're a WooCommerce plugin user.
And that's a wrap-up for now. If you liked what you read, please make sure you share it on your socials.
Also, make sure to follow us on Twitter and Facebook for more information about our article updates.
Still, got the time? Why not go through our post on the best WordPress slider plugins for stunning sites.