If you need to register users on your website, you must use the best WordPress free registration plugin.
Making users or customers register is the first priority for any business owner. All you need is a front-end registration form on your site. And you can create one without any trouble with the help of WordPress registration plugins.
In this article, we've listed the best WordPress registration plugins that are available to you. But before that, let's learn why a WordPress registration plugin is essential for every website.
Why Do You Need a WordPress Registration Plugin?
Although WordPress provides you an option to manually register users, it's not feasible for large websites with thousands of active users. Using a WordPress registration plugin allows you to register users on your site in a time-efficient and systematic way.
In the first place, you can create a custom registration form for your site with the help of a WordPress registration form builder. While creating the form, you can customize the form fields according to your requirements.
Moreover, you can assign the user roles automatically through the registration form which saves so much time. Other than that, a WordPress registration plugin offers various user approval methods, spam protection, user reports, and so much more. So, why miss out?
If you're tight on budget, there's no need to worry. You can just use a WordPress free registration plugin that lets you register users on your website effortlessly.
We've explored 7 of the best free WordPress plugin for user registration and login below. So, let's get started right away.
---
7 Best WordPress Free Registration Plugins
User Registration plugin is undoubtedly the best WordPress free registration plugin out there. It's super user-friendly with its simple and intuitive design. The plugin allows you to create a WordPress registration form in a few clicks. Because of the easy drag and drop form builder, creating a registration form with the desired form fields is a piece of cake. You can easily add multiple rows and columns to your form.
Moreover, the plugin comes with a front-end profile account page for users. Not to mention, the users can edit their own profile, change passwords, log out, and more.
Besides that, there are various form settings that allow you to customize the functions of your registration form. Although the free plugin is self-sufficient, it's extendible with 14 premium add-ons that add more functionalities to your custom registration forms.
Key Features:
Fully compatible with WooCommerce
Assign default user roles
In-built login form available
Google reCAPTCHA support (v2 and v3)
User data export in CSV
---
If you want a WordPress free registration plugin that allows users to easily modify their user profile then, Profile Builder is the plugin for you. With the use of shortcodes, you can easily create front-end login, user registration, and edit profile forms.
There's even a list of shortcodes that the plugin provides for displaying forms. For example, you can use the shortcodes [wppb-register] for the registration form and [wppb-edit-profile] to edit the profile form.
Similarly, you can restrict pages and posts on your site with Profile Builder. It also enables you to assign user roles, both default and custom roles, during registration.
Key Features:
Set specific profile fields as visible in front-end
Enable email confirmation during registration
Redirect users after registration or login to desired page
Customizable user login widget
Invisible reCAPTCHA support
---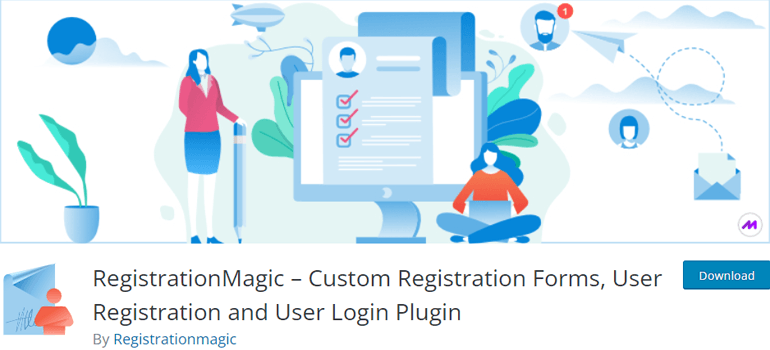 RegistrationMagic is next on our list as the best free WordPress plugin for user registration and login. Despite being free, it offers tons of features that are more than enough for creating a custom registration form. You can then replace the disable the default WordPress registration form, and display the custom registration form in its place.
Besides that, you can track form submissions and analyze stats from the admin dashboard. What's more, you can even accept payments with PayPal integration.
All in all, you can make a simple or complex registration form free of charge using RegistrationMagic.
Key Features:
---
If you're looking for a lightweight plugin that won't hamper your site's performance, try UsersWP.
This free WordPress plugin for user registration and login is one of the best available. Thanks to its compatibility with major page builders like Divi and Elementor, making the process of creating registration forms and user profiles much more convenient.
So, creating an online community of users is fast, secure, and cost-efficient. Better yet, you get two add-ons, Social Login and reCAPTCHA absolutely free of cost.
Key Features:
Assign custom user roles
Create unlimited forms for your site
Customizable Users Directory
Place custom menu items in user profiles
Password recovery and reset forms
---
Ultimate Member is another WordPress free registration plugin, perfect for creating a membership website. The plugin allows your users to register through front-end registration forms and become members of your site effortlessly.
Along with creating registration forms with custom form fields, you can use this plugin to create an advanced online community thriving with members. Plus, you're able to build beautiful front-end user profiles for all your members as well.
Also, Ultimate Member is highly extendible with a range of paid extensions that adds more functions to your forms. So, you can create a vibrant website where users can sign-up, become a member, and manage user profiles effortlessly.
Key features:
Member directories available
Conditional logic for form fields
Show author posts in user profiles
Conditional navigation menus
Easy-to-use drag and drop form builder
---
WP User Frontend is yet another WordPress free registration plugin that's perfect for managing members, user profiles, and post submissions. It includes a front-end dashboard, editor, and uploader which allows users to edit their profile and create new posts without any trouble.
Moreover, the plugin lets you create multiple registration forms, and display them on your site using the Gutenberg block editor. Or, you can copy and paste the shortcode provided for each form to any WordPress page.
With this plugin, you can also enable certain user roles to create posts from the front end. Likewise, you can set post status, post messages, and even update post button text.
Key Features:
Custom redirection after login
Schedule forms and limit entries
Easily import/export forms
Create subscription packs to receive payment
Allow users to upload attachments
---
Registration Forms enables you to create mobile responsive registration forms for your WordPress site with a drag and drop builder. Since this free plugin is compatible with PayPal Standard, you can accept payments through the registration forms as well.
Moreover, you'll be able to moderate user registrations through the dashboard and verify users before granting them access to your site. You also get user and admin email notification templates that you can customize as per your needs.
Key Features:
Password-less registration
Enable invite-based registration
Basic content restriction available
Shortcode support
Allows to import/export form data
---
To Conclude:
Creating a custom registration form is essential for every website may it be e-Commerce, blog, or software-based. And with the help of a good WordPress free registration plugin, you can upgrade the way you register users.
The plugins we've mentioned come with a unique set of features despite the few similarities. So, you can simply choose the one that fits your website requirements best.
However, we recommend the User Registration plugin. It enables you to create a free sign-up form for WordPress without needing any coding skills. That's not all. You can even create survey forms and contact forms with this drag and drop form builder.
If you'd like to include more types of forms on your website, you can explore quiz plugins, survey plugins, and more types of form builder plugins on our blog.
Also, follow us on Twitter and Facebook to stay up to date with our articles.