Wondering how to add a password field in a WordPress user registration form to allow users to set passwords? If you answered yes, this article is what you need right now.
Your users might want to set a custom password during the signup process. However, WordPress doesn't let you add a password field in the default registration form. You'll have to use a registration plugin like User Registration for that.
That's why we've prepared this guide to help you add a password field in WordPress registration form using the User Registration plugin. So, make sure you read this article till the end.
Default WordPress User Registration Form Fields
The default WordPress user registration form only has a username and an email address field. WordPress generates a password and sends the login credentials to the user's email address when a user registers through this form.
However, you can't add a password field to this default WordPress registration form to let users set their own password.
Sure, you can generate passwords while creating a user manually from the dashboard. But this isn't possible with a front-end form on WordPress sites.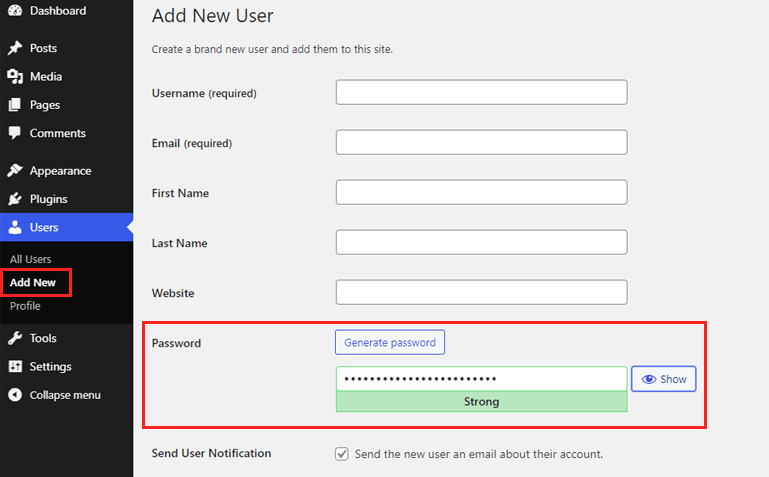 Luckily, there's a pretty easy way to overcome this limitation.
---
Best Way to Add Password Field in WordPress Registration Forms
User Registration makes up for what the default WordPress registration form lacks. It's an incredible WordPress plugin that offers a drag and drop form builder to easily add a password field to custom user registration forms. 
Not only that, you can add more fields besides a password like Multiple Choice, Profile Picture, and Phone Number.
Apart from that, it comes with a built-in login form and registration page. Moreover, your registered users get a beautiful user profile page where they can change their old passwords.
And the best thing is that you can try this plugin completely free of cost before buying any premium plan.
So, without further delay, let's look at how you can use this plugin to add password fields to a user registration form in WordPress.
---
How to Add a Password Field in WordPress Registration Form?
Here's a short guide you can follow along to set a password field in your WordPress registration form:
1. Install and Activate the User Registration Plugin
First and foremost, you need to install and activate the User Registration plugin on your WordPress website.
You can search for the plugin in the Add New section under Plugins in your WordPress dashboard. 
Alternatively, you can also download the plugin file from WordPress.org and upload it from the same Add New section.
After that, activate the plugin to complete the installation process.
Once that's done, you'll see a notice at the top asking you to Install User Registration Pages.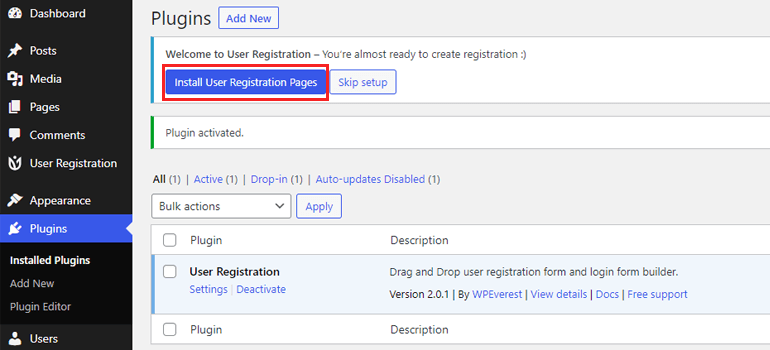 Clicking on that option adds the My Account and Registration pages to your website. You can use them instead of spending time and effort on creating custom user profiles or registration pages.
---
2. Allow Users to Register with a Front-end Form
The next thing you should do is allow users to register with a front-end form. Otherwise, the WordPress registration form won't be visible to your users.
Simply turn on the Membership option under General Settings, click Save Changes at the end of the page, and you're good to go.
---
3. Create a New User Registration Form with the Password Field
Now, it's time to create a new user registration form with the Password field. So, click Add New under the User Registration tab.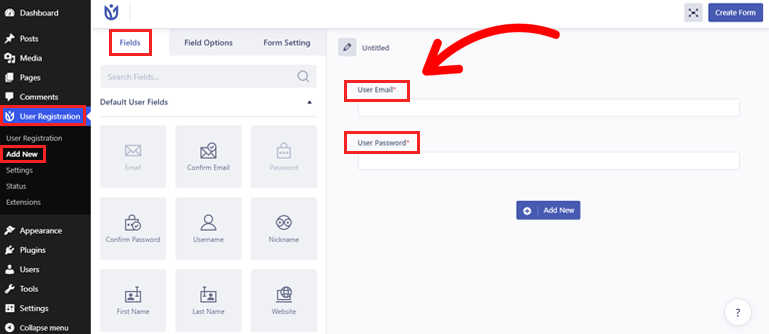 This takes you to the form builder with all the available fields and customization options on the left while the actual form is on the right side.
As you can see, the form already comes with two form fields: User Email and User Password. So, you don't even have to add the password field yourself; User Registration does it for you.
If necessary, you can add the Confirm Password or any other fields instead. Simply drag and drop the field into the form. As easy as that!
Now, all you need to do is customize the password field. To do that, click on the Password field, and the left panel displays its Field Options.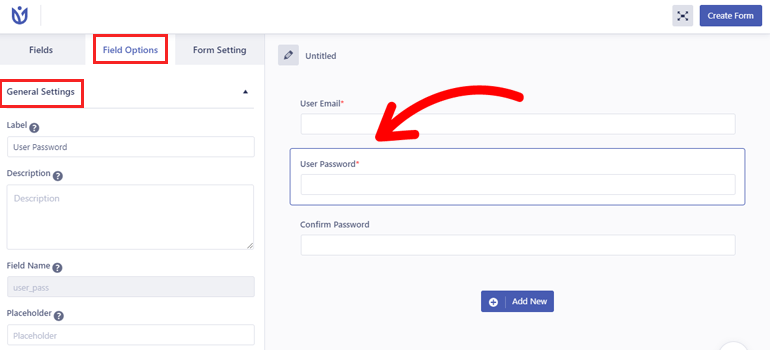 The General Settings lets you edit the field's Label, Description, and Placeholder. You can also set this field as Required and hide its label.
Similarly, Advanced Settings enables you to add a custom class to the field. If you're adding multiple classes, separate them with commas.
After you're done building and editing the form, don't forget to give it a name and hit the Create Form button.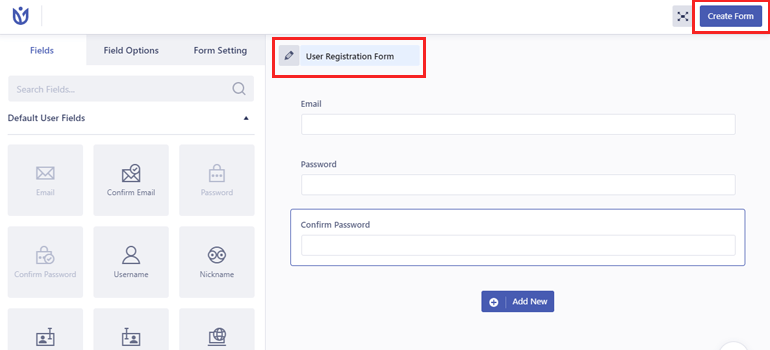 ---
4. Configure the Registration Form Settings
There's still one more thing you need to do before publishing this registration form on your WordPress site. And that's configuring the registration form settings from the Form Setting tab.
Here, you can choose a User login option among manual login, automatic login, email confirmation, and admin approval. You're also able to assign default WordPress user roles to people who register through this particular form.
Besides that, you can use several other options to enable strong passwords, reCaptcha support, set redirect URL, choose form template, and more.
Finally, click the Update button to save all the changes you've made till now.
---
5. Display the User Registration Form on Your Website
All that's left to do now is display the user registration form with the password field on your WordPress website.
Just copy the form shortcode and open the page or post you want to place the form in.
Then, paste the copied shortcode into the Shortcode block.
An alternative way is to add the User Registration block itself and select the form from the dropdown. After that, press Update to display the form on that page or post.
With this, your users will be able to fill in their details along with a custom password to register on your site.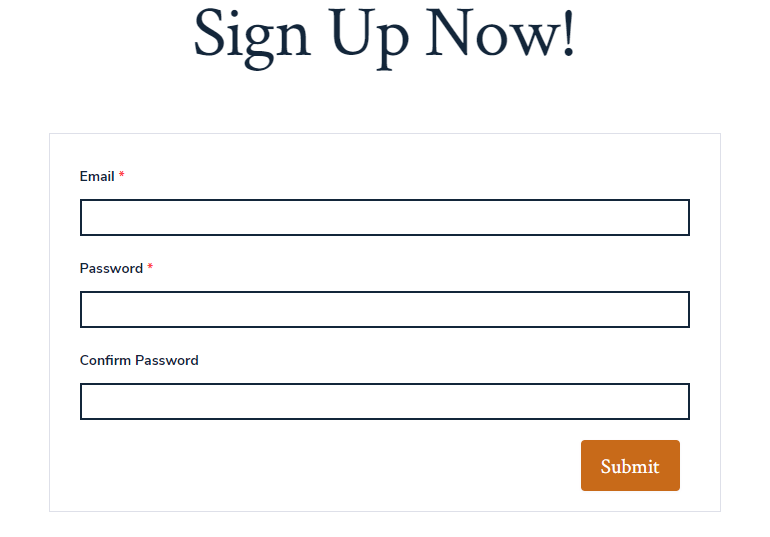 ---
Wrapping Up
That wraps up our tutorial on how to add a password field to your registration form in WordPress. We recommend using the User Registration plugin that enables you to add the Password and Confirm Password fields without much hassle.
This means your users will be able to set a password through front-end WordPress registration forms themselves.
Of course, you can use the default registration form without a plugin if you need something quick and simple. But you won't be able to add any extra custom fields like passwords to this registration form.
You can always explore other free registration plugins before making the final decision.
We hope this article helped answer any questions you had regarding this topic. Also, don't forget to share it on your social media accounts.